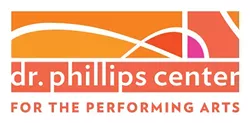 It rained trebles and basses, SunRail cars drove by and drowned out polite anticipation, people scrambled and were bopped on the head by looming television cameras, the mayor's spokeswoman Heather Fagan laughed off a TV MEDIA question about red light cameras and class-action suits and this guy – THIS GUY – made an appearance for no discernible reason. Ladies and gentlemen, you know it's a Thursday afternoon when JON FUCKING SECADA shows up. I try. I can't.
[youtube -7N0B0IVibY]
Such was the quizzically-besuited-and-raised-up-in-uncomfortable-heels launch into what exactly $515 million can buy in terms of "world stage" plumage. This afternoon, DPAC besties Jim Pugh and Kathy Ramsberger took to the WXYZ bar/lobby of the new Aloft Orlando Hotel to toot their own horns in the direction of the "believers" and "benefactors" who helped to make the 25-year "dream" of a performing arts center come to (sorta) life.  (We have of course not been believers for a very. long. time.) SHAME ON US! First, Pugh warmed up the crowd with the sound of throats snoring over piles of money. Soon after, Mayor Buddy Dyer – wearing a jacket BUT NO TIE – buzzed in just long enough to boast about all of the announcements this week: On Monday he announced that we were halfway through the lower bowl of the disemboweled Citrus Bowl; Tuesday brought the new soccer stadium renderings; today would be the announcement of the new season at the "Bob Carr." Oh wait! A funny gaffe! That hilarity was swiftly shut down when the mayor officially announced that "the gauntlet is down," meaning this DPAC monstrosity will in fact see its fancy-pants inaugural gala on Nov. 6! And it's gonna last three weeks! And we'll all be on drugs like when we used to turn green at Firestone because ALL NIGHT PARTIES. Except we've all grown up and now we wear pantyhose to afternoon events in hotel lobbies. Whatever.
The 2014-2015 Broadway series in conjunction with Florida Theatrical Association has already been announced (click here for dates and tix), so we needn't tell you about the gaping yawn that is The Phantom of the Opera, The Book of Mormon (again), Newsies, Motown the Musical, Pippin (yay!), Disney's Beauty and the Beast, Anything Goes and I Love Lucy Live on Stage. Your grandma already knows. PIPPIN!
Likewise, the Orlando Ballet – likely forced like a meal in Black Swan – will  perform on the potentially too big and unsuitable-for-toes Walt Disney Theater stage (click here for dates and tix)... more Peter and the Wolf, The Nutcracker, Swan Lake, Vampire's Ball and Battle of the Sexes shenanigans than your dance card can handle! BATTLE! SEXES! Crouch!
Oh, and the Orlando Philharmonic will NOT be performing at DPAC, instead keeping its in-the-black wares safe from harm over at the Bob Carr. Next May, the Phil will be doing Puccini's Tosca (info here), but DPAC also included the orchestra in their "programming" presentation, which seemed to make Phil executive director David Schillhammer wince, but it could have just been something in his eye. "We're so thrilled to have Orlando Ballet in this center," Ramsberger gushed, before announcing that DPAC had actually hired a new VP of Programming after the last one, Judy Joseph, broke up by email. It's Scott Galbraith from the Bushnell Center for the Performing Arts in Hartford, Conn.! "This November, we're on!" Ramsberger growled, signifying nothing.
The only real substance – other than that magical marshmallow force that is Jon Secada – came in the form of the announcement of the Jazz Roots Series, some middle-aged conflagration of tributes to the rhythms and music that were "transplanted" from Africa and could only flourish in a "multicultural society," or something. All of this came from the mouth of the guy who is responsible for GRP Records (jazz that nobody should like, really), Larry Rosen. Apparently, there's been a local "advisory council" that just met for the first time last week, and it's going to make sure that local musicians get to have a go at things during this particular jazzercise. Hooray! Also, there are four shows: Georgia on my Mind: Celebrating Ray Charles (Grammy nominee Nnenna Freelon wowed the assembled suits with a gloriously languorous rendition of "How Long Has This Been Going On?" at some point here), Pink Panther: Tribute to Henry Mancini, An Evening with Chris Botti (who was once in a fast-moving elevator with STING!) and A Night in Rio with Sergio Mendes and all of the bossa nova noise you can imagine.
BUT WAIT THERE'S MORE.
Actually there was a bit more, and it all seemed to run together in a montage of slam poetry, "Chuggington Live!" (a children's drinking game), The Chocolate Nutcracker, and the Original Wailers – all of which will be presented in various nooks throughout the property. Oh, and this guy – THIS GUY – will be doing a speaker series engagement on Feb. 7. Lock up your food.
AND, that was about it. Of course there were promises of more announcements and more community engagement and more money and increased access to early on-sales for "members," but for now we can honestly say that it all feels a little middling for an inaugural season. Somebody once knew someone who brushed up against someone else so we're announcing them with a starring role in Orlando via a used-car salesman voiceover. We'll see how it all goes.