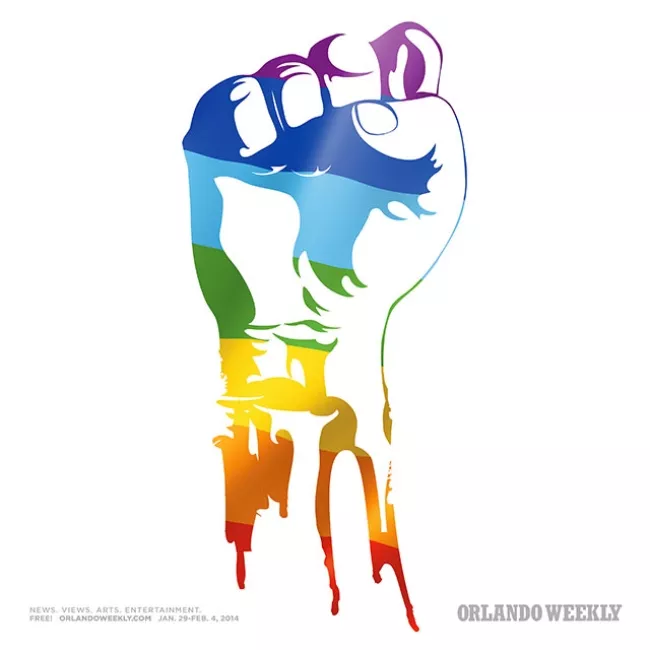 Seemingly oblivious to the fact that righteous inevitability is indeed inevitable, yesterday the cabal of Christian circus freaks and handmaidens that includes the Florida Family Policy Council's grumblepuss John Stemberger filed a 43-page argument in a Miami circuit court ripped straight from the quack-science and idiot sociology handbook that
already failed the group when gay adoption was made legal in Florida
. By now, you're already
aware of the Ruvin case that is seeking to overturn the state's gay marriage ban
which you may have inadvertently forced into the Florida Constitution in 2008 because the ballot question was worded so poorly; there is a hearing in the case scheduled for July 2. Proponents of gay marriage representing six LGBT couples have made the case for a summary judgement from the court, something that the other side is willing to show its ass over in order to fight it. The argument goes something like this: All of these gay people are just whining, there is no evidence of discrimination or harm done, they are systemically breaking down the institution of marriage which lets the individual sexes know where they stand in society (!), all gays have AIDS, all gays are whores and kids should not be around gay people. Also, in other countries gay marriage has brought a change in the coupling habits
(and out-of-wedlock child bearing)
of whole cultures! And we don't believe in evolution! Don't believe us? Here's some cherry picking.
"Same-sex unions and comprehensive unions are not only distinct by nature, but also by how they are treated by those engaged in them. In the 1980s, two homosexual professors undertook a survey of same-sex couples in an attempt to prove homosexual unions are exclusive. However, contrary to their hypothesis, not one homosexual couple of those surveyed stayed sexually exclusive longer than five years.25 The study showed "[t]he expectation for outside sexual activity was the rule for male couples and the exception for heterosexuals."26 By contrast, 99 percent of heterosexual couples expect sexual exclusivity in their marriage, and violations of it are "the leading cause of divorce across 160 cultures and are one of the most frequent reasons that couples seek marital therapy."27 Similarly, a "U.S. survey found that the average number of sexual partners since the age of eighteen for men who identified as homosexual or bisexual was over two and a half times as many as the average for heterosexual men."28 Social science studies of the behavior of homosexuals disprove the assertion that same- sex couples are similarly situated to opposite-sex couples."
Or, we're all whores and heterosexual people are angels. Really. It gets worse. And filthy!
"In fact, it is because of this natural aspect of a female-male union that, historically, consummation required sexual intercourse and not simply any sexual act between the coup?le the idea was to join the parts that, together, have the potential to embody a whole. Thus, laws protecting marriage as the union of one man and one woman are advocating for a social good. The 'law reflected the rational judgment that unions consummated by coitus were valuable in themselves, and different in kind from other bonds.' '[T]wo men, two women, and larger groups cannot achieve organic bodily union: there is no bodily good or function toward which their bodies can coordinate,' like procreation."
GAH!!!! OK, here comes the kicker. Gay is not healthy.
"In memorializing the definition of marriage as the union of one man and one woman in the Florida Constitution, the voters of Florida acted to not only preserve and protect the social goods of marriage, e.g. stability, permanency, fidelity, sexual equality and the continuation of society, but also to promote health, safety and welfare. Social science, medical science, the Centers for Disease Control and Prevention, and even homosexual rights activists have established that there are inherent harms associated with same-sex unions, harms that would be financially and socially costly to the entire state. As psychologist David Pickup testifies, men having sex with men (MSM) comprise 48% of all individuals with HIV/AIDS in the United States, but make up only an estimated 2-4% of men in the population.72 "This is occurring in a context where MSM are reporting higher rates of sexual risk behaviors in recent years in spite of increasing cultural acceptance." (Pickup Declaration, ¶30). On May 9, 2014, the Centers for Disease Control and Prevention published a report documenting significant increases in sexually transmitted diseases in homosexual men for the period 2005-2013, calling the trend a 'major public health concern.'"

This is in keeping with numerous other reports from the CDC cataloging health risks associated with homosexual conduct. For example, homosexual males are at exponentially higher risk of developing a variety of sexually transmitted diseases, and have increased risks of developing various cancers and medical conditions because of the nature of same-sex sex.74 As Dr. Reisman testifies, "[a]ccording to 2011 CDC statistics, we find that male-to-male sexual contact (without any injection drug use) accounted for 90.8% of all HIV diagnoses for males aged 20-24, and 92.8% of all HIV diagnoses for males aged 13-19."
OK, enough. You can read all 43 pages of drivel – along with an affidavit from the alleged "expert" Dr. Reisman being utilized to paint gays as abusive whores – below. Attorney Mary Meeks, who is one of the lawyers fighting for the freedom to marry, dismisses the filing outright. Procedural nonsense. Carry on. "This is all the same tired and discredited arguments that have already been soundly rejected by courts all over the nation," she writes in an email.  "We are focused on going to court on July 2 and making the legitimate constitutional arguments that we hope will bring marriage equality to our amazing plaintiff couples, and will align Florida with the growing list of equality states." Still it's better to know the idiocy being used to define you, even if certain people would have you believe that everything is fixed now and there's no more "activist" fight left to sweat over. Read, weep.