Waiting my turn outside Diagon Alley to talk to the Today Show co-hosts. (photos by Seth Kubersky)
Waiting my turn outside Diagon Alley to talk to the Today Show co-hosts. (photos by Seth Kubersky)
As you may have already heard, the Today Show has announced July 8 as the official opening date for The Wizarding World of Harry Potter -- Diagon Alley at Univeral Orlando. Most of the media won't see the inside of the new attraction until tonight's red carpet VIP party, but early this morning I was invited through Diagon Alley's magical wall to interview the Today Show co-hosts before their 9 a.m. broadcast.
I met Al Roker (who is surpisingly petite in person) and Tamron Hall, and spoke with Willie Geist and Natalie Morales about their impressions of the new Harry Potter land. (Kathie Lee and Hoda weren't there because "they found out Butterbeer was non-alcoholic.") I'll publish excerpts from our interview soon, but it was frankly hard to focus on the television personalities while inside the overwhelming Diagon Alley environment, which outdoes the already-impressive concept art in its immersive detail.
After our interview, I attended a "State of the Universe" press conference with Universal Orlando President Bill Davis and attraction designer Thierry Coup. Other than the aforementioned July 8 opening date, no new information was revealed about Universal's future, though we were told upcoming plans would be revealed in the coming months.
Potter film stars at the "State of the Universe" press conference.
Potter film stars at the "State of the Universe" press conference.
Finally, I took a VIP tour of Universal Studios Florida, which featured a feast inside Moe's Taven (Duff beer for brunch!) and an opportunity to speak with executive producer Mike West, who discussed details of the park's popular Simpsons attractions.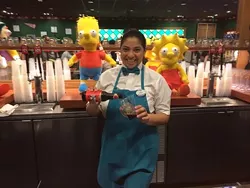 Here's a video of our conversation with Mike West:
Follow me on Twitter at @skubersky tonight for live reports from the Diagon Alley red carpet event, and (hopefully) my first reviews of the anticipated Hogwarts Express and Escape from Gringotts rides.