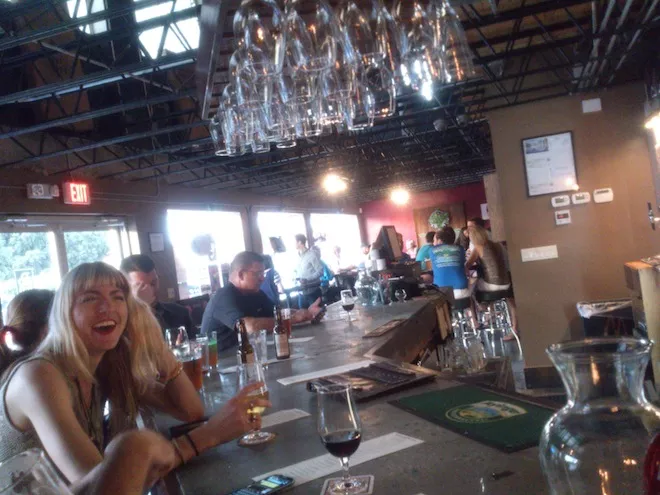 50 awesome shots from our #OrlandoWeekend
50 awesome shots from our #OrlandoWeekend
Summertime and the livin' is easy ... or at least the drinkin' is easy. Here are five Orlando happy hours that will make your summer-summer-summertime drinking even easier:
Swing by this College Park hangout and treat yourself to some next-level bar food, including a "Big Guy" sandwich or a buffalo chicken pizza. Wash it all down with some five for $10 domestic bottles or $3 shots of Pinnacle vodka.
Where: 3400 Edgewater Drive
When: 3-7 p.m., daily
If you like your beers fancy and your food delivered from Sushi Lola's down the way, stop by Redlight Red Light. Their happy hour specials rotate on the daily, ranging from $2 off an Anderson Valley Pale Ale to $1 off all beers from Brasserie de la Senne. Pro-tip: Call 'em on Thursdays to find out what their specials are for the upcoming week.
Where: 2810 Corrine Drive
When: 5-7 p.m., Monday - Saturday
You can get your comfort food fix at one of Marlow's Tavern's two Orlando locations. The offer a stellar shrimp and grits that pairs well with a $3 workingman's draft beer like Shock Top or Yeungling during happy hour. If beer's not your thing, you can enjoy $4 glasses of wine from Coastal Vineyard. Bonus: If you visit before the end of June, you can enjoy Marlow's Bite30 menu, which includes the aforementioned shrimp and grits (plus a pretty decadent crème brûlée).
Where: 9101 International Drive and 1008 S Orlando Ave.
When: 3-6 p.m., daily
If, to you, summer means drinking all day, and we do mean ALL day, then The Hideaway Bar's happy hour is perfect for you. It runs from 7 a.m. to 6 p.m. every weekday, giving you discounts on liquor and beer. And, hey, their bar food's not too bad either, perfect for soakin' up a day's worth of booze.
Where: 516 Virginia Drive
When: 7a.m. - 6 p.m., Monday - Friday
The Hammered Lamb definitely offers the best happy hour view. Out on their covered patio, you can watch the sunset over Lake Ivanhoe or the eye candy that always seems to be drinking out there. With two-for-one drink specials during happy hour, maybe you'll get up the courage to talk to that hot guy over there.
Where: 1235 N. Orange Ave.
When: 4-7p.m., Monday - Friday