This Little Underground is Orlando Weekly's music column providing perspective, live reviews and news on the city's music scene. Read the latest column here.
Tables for one: DJ Questlove
Tables for one: DJ Questlove
The summer heat's been spiking a little more than usual this week due to Jimmy Fallon's crew being in town to record The Tonight Show. Unlike our usual ass-stick swelter, however, it's been pretty fresh having the town alight with things like a free renegade comedy exhibition by the show writers (June 18, Will's Pub). For music heads, though, the hottest ripple was Questlove basically receiving mail here for three straight nights on the turntables (June 18-20, The Social).
Employing the same sweet-spot logic I apply to all parties (skip the warmup, bounce before it ebbs), I checked out the middle Michael Jackson-themed night of the marathon residency. As for Questlove's table technique, well, let's just say his tombstone doesn't need rewriting quite yet. It's not like he's Paris fucking Hilton or anything – no, he's actually a solid and inventive mixer. He's just more of a butter-spreading groove-rider than a hot-cutting trickster. But even though he won't be lighting up any DMC battles any time soon, he did showcase some construction creativity and exceptional song library and selection – mixing, mashing and reworking the King of Pop in all sorts of ways with what sometimes sounded like rare outtakes blended in. Shit, he even made it work with bad MJ material (yes, including "Bad"), a feat in itself. It was clearly a set by a true aficionado and fan of music. What that all totals is a dope-ass party with some legit stardust. And it brought out lots of Orlando's most credentialed DJs – literally generations of them dating back to at least, according to my count, the big house boom of the early '90s.
The best news, however, is that this report isn't all past tense. You still have one night left of this rare engagement – and tonight's theme is James Brown – so get on up. Doors open at 10:00 PM with support by Lazy Afternoon DJs DanielVVI and Spreadsheets.
Read more This Little Underground: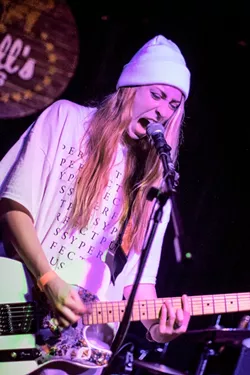 The return of freak-rock kings Happy Valley
The return of freak-rock kings Happy Valley