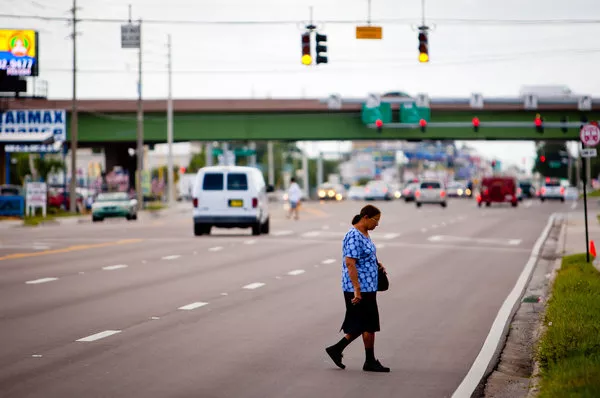 Photo by Chip Litherland for
Photo by Chip Litherland for The New York Times
Wanna make your way around town on foot? Then maybe Orlando's not the city for you.
A recent study found that Orlando is the least walkable city in the United States. Released by Smart Growth America in partnership with the George Washington University School of Business, Foot Traffic Ahead: Ranking Walkable Urbanism in America's Largest Metros counts the number of walkable urban places - defined as locations within a city where residents can easily walk to work, school, stores and activities - and investigates the correlation between the number of walkable urban places (called WalkUPs) and a city's wealth and education level. (Spoiler alert: the cities with "high walkable urbanism" have both a higher gross domestic product and level of education.)
With Winter Park and the downtown area recognized as two identifiable WalkUPs, Orlando landed at the bottom of the list, at 30. They found more or equal WalkUPs in Orlando than higher-ranking cities like Las Vegas and San Antonio, but because we have a higher population of people living in those areas than the other cities, we got pushed below them in the rankings. We weren't Florida's only representation, though: Tampa was hot on our heels at No. 28, and Miami squeaked in at No. 23.
The report also ranks each city's potential for future urban walkability. Orlando fared a little better, projected at 18, giving the City Beautiful hope that someday we'll be able to live where we can easily walk to work, shopping and wherever else our feet can take us.