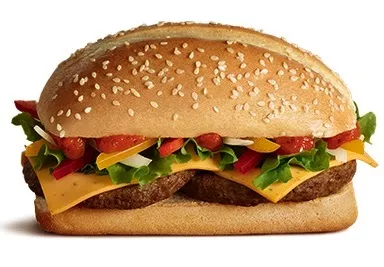 Yep, that's real Florida beef.
Yep, that's real Florida beef.
Sock ray blue! As part of their "American Summer" promotion, select McDonald's locations in France are now offering a "Florida Beef" burger whose recipe was allegedly "inspired by" our sun-soaked swampy shores. At the sandwich's core are two chopped steaks (of course, the entire world knows Florida is often celebrated for its chopped steaks) that are then topped with peppers, onions, "cheese bacon taste pepper" (obviously Google translated that phrase correctly), some lettuce, and a mysterious substance known only as "summer sauce." Can the essence of summer truly be captured in a kind of burger sauce? Who knows, but this little sucker sure looks tasty.
Also featured in French McDonald's "American Summer" is a California-inspired chicken/bacon/avocado sandwich and "classic chips" which are in fact potato chips and not french fries. Don't wait to book your flight to Paris, though: these items are on sale for but a limited time! Your grandkids will hate you if they know you missed "American Summer" at French McDonald's in 2014!