Hey, Jesus: THIS is who I meant.
Hey, Jesus: THIS is who I meant.
Back when my father was a drama teacher, one of his best students was a guy named Dennis Boutsikaris. You may know Dennis by sight (if not by name), since he's worked pretty steadily in the 40-plus years since Dad had him in class. He played Mozart on Broadway (opposite Frank Langella's Salieri) in Amadeus. He was in movies like batteries not included, The Dream Team and The Bourne Legacy.  He often appears  on Law & Order, in a recurring role my parents tend to refer to as "the lawyer who loses at the end." And just a few years ago, he played Paul Wolfowitz in Oliver Stone's Bush biopic , W.
W. has been on TV a lot lately. While it's still far from the best movie in the world, I've enjoyed the chance to catch bits and pieces of it now and then. Especially when Dennis was on. "It's nice to see him again," I'd think.
And this brings us to our lesson for today: Always be specific when you think God might be listening. Because when I said, "It's nice to see him again," He apparently thought I meant Paul Wolfowitz.
Honestly, it was spooky how smoothly the regular plays of W. on my U-Verse screen segued into the return of the Bush cabinet to TV. Dick Cheney's breathtakingly hypocritical Iraq critiques have been getting the most scrutiny, but I almost wish Wolfowitz' resurrection were grabbing as much attention (again, God, notice I said "almost"), because his remarks have been even more brazen on certain levels. My jaw just about hit the floor when Wolfie told MSNBC's Chuck Todd that we should be referring to ISIS as Al Qaeda, simply because it's a name more Americans know and fear. (This was just seconds after he had denied that the Bush administration had commingled 9/11 and Saddam Hussein in the public consciousness to serve their own ends.)
This bunch sure deserves some sort of award for chutzpah. And it's nice to see everybody from Jon Stewart to Megyn Kelly calling them out for their mendacity. You have to be an incurable partisan not to wonder how they can damn President Obama for their very own mistakes. If you're a fair-minded, mildly contemplative individual, it's hard to process cognitively. It almost doesn't register.
So, THAT didn't happen.
But what if cognitive dissonance is actually the game? What if Cheney, Wolfie, et al aren't merely the blackest of pots throwing shade at a convenient kettle? What if they've figured out that confusing the viewing audience as to who actually advocated what – and when – is the key to getting our entire U.S. population  to throw up its hands and mutter, "Ehhhh, take yer base"? If political reality becomes too hard to follow, let alone make sense of, doesn't it allow the obfuscators to continue getting away with murder – like cockroaches whose best friend is the confusing cover of total darkness?
That idea might not be so paranoid. The modern media landscape is turning into a playground for those who seek to bewilder and conquer. Just recently, it was revealed that #EndFathersDay – a bizarre pseudofeminist Twitter trend that condemned the holiday as emblematic of the patriarchy – was in fact a hoax pulled off by misogynists on 4chan, the online petri dish for trolls. Their goal was to "trick" actual feminists into agreeing with their patently lunatic thesis, in order to discredit the entire movement as – well, how about "hysterical"?
In this case, it backfired: The hoax and many of its participants were exposed. But as far as I'm concerned, they still succeeded to a degree, because they injected an extra note of cynicism into a communication culture that can't stand much more of it. The need to be suspicious of everything you read and hear is already part and parcel of "current events" intake – and some would say it's a healthy exercise – but instilling in people the idea that anything they hear could be intentionally ridiculous makes heartfelt commentary the baby that gets thrown out with the bathwater.
Many blogosphere rants strike me as ludicrous – including some of the Jezebel-spawned "feminist" manifestos – but I usually don't doubt that their authors, at least, believe them. If I did, the chances would be greater that I'd dismiss out of hand anything that "sounded wrong" to me; I'd just think, "Sounds like bullshit, so it's probably a hoax" and move on.
And that's dangerous. Because the ideas that initially strike you as absurd are the ones that are vital to your growth as a human being. If we as a people have no impetus to trust in the sincerity of philosophies that seem to clash with our own, we'll stick with the ones that don't. Anyway, willful misrepresentation  of your ideology is just bad faith.  Saying stuff you know to be ridiculous just to get a rise out of people and sow confusion for your own ends should never be confused with discourse. (It should be known by its true and correct name, "slam poetry.")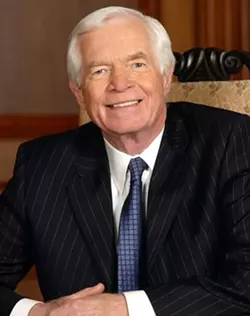 "Vote for me -- but only if you mean it!"
"Vote for me -- but only if you mean it!"
On this very day in Mississippi, racist "poll watchers" are descending on voting places, trying to intimidate black Democrats against casting a ballot for Thad Cochran. Their excuse is that such miscreants may be trying to participate in the GOP runoff, despite having just voted in the Democratic one (which is against the law there). As far as I've seen, there's no real evidence that anyone intends to do this, but the idea that it could happen is all the cover that's needed. And why is that idea out there? In part because guys like Rush Limbaugh have in the past urged registered voters to mess in the other party's primaries, as a way of wreaking havoc on the enemy. Thus does the scourge of insincerity perpetuate itself.
We can't pass a law against voting ironically, but we can agree to speak in good faith – and to censure those who don't. Unless we really want to hear the "atheist case" against Arbor Day.
---
Days without a response from the publication that plagiarized from me and won't come clean: 369.
Follow me on Twitter: @Schneider_Stv