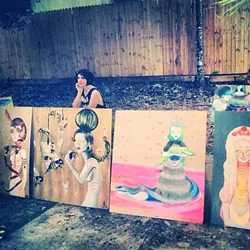 Welcome to 19 Questions, a feature where we ask longtime Orlando residents 19 questions that are mostly related to living in the City Beautiful.
Kelly Berry is a twenty-something professional artist who has spent her entire life here in luscious Orlando. She is not the same person as Kelly Berry Nabong, the basketball star of Filipino descent.
1. Who's your favorite Orlando resident, living, dead, real or fictional?
Wow, I don't know ... there are so many really good artists here. I guess I'd say Megan Stewart. She paints reptiles.
2. What's the best meal you've ever eaten in Orlando?
Thai Thani on I-Drive, it's amazing.
3. Publix or Winn Dixie?
Publix. It just seems cleaner to me.
4. What's the last concert you went to in Orlando?
I'm embarrassed to say, but it was AFI at the Beacham.
5. What's your least favorite beach in the area?
I don't like Daytona or Cocoa, they're both kinda icky and there are too many tourists.
21 vintage shots of Orlando's Gatorland attraction
6. What's your favorite Orlando attraction that no longer exists?
I guess the Back to the Future ride.
7. What do you hate most about living in Orlando?
Definitely the heat and the lack of public transportation, although that's getting better with SunRail.
8. What do you hate least about living in Orlando?
All the little areas, all the shops that specialize in different things. There are definitely a lot of different niches.
9. Hungry Howie's: pro or con?
Definitely con. Their color scheme with the yellow and the orange is gross, and their logo looks like hairy pizza.
10. In one word, describe your day job.
Eccentric.
11. What's your favorite coffee spot in Orlando?
Austin's, because they have figure models sometimes and cute local bands.
Lineup announced for Austin's Coffee's I-4 Fest
12. Do you have an orange juice of choice?
Not really, I guess Tropicana. I don't really like orange juice. It's too acidic.
13. If you could give Orlando a new nickname what would it be?
Oh my god, I don't know. This is hard! [makes indecisive noise]
14. Have you ever encountered Wesley Snipes? If so, what was the circumstance.
I definitely have not.
15. Planet Hollywood or Hard Rock Cafe?
I've only ever been to Hard Rock, so that wins by default.
16. Gator attack or bear attack?
Gator. They're in a lot of paintings I do, they're so inspiring.
21 vintage shots of Orlando's Gatorland attraction
17. What's the weirdest thing you've ever seen in Orlando?
I see a lot of weird shit every day. Lots of job-specific experiences. I think the weirdest thing was some people dressed up oddly who were claiming to be werewolves and vampires.
18. Mandy Moore: pro or con?
Con. She's cheesy as fuck.
19. What makes someone an Orlandoan?
That's a super vast thing. Basically being an Orlandoan means you're a weirdo and there's something not right with you, but that's okay. You just don't fit in other places.