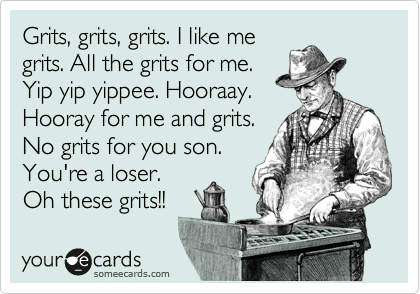 Around 1 p.m. on Wednesday, June 18, a conflict between 59-year-old Edward Holley and 29-year-old Darryl Devon Blacknell reached a brutal climax on King Cole Boulevard in West Orlando.
Upon finding Blacknell playing poker with some friends on his porch, Holley said, "I've got something for you," before going inside and returning with a pan of what police described as "scolding hot greasy grits." Holley then turned the Southern breakfast dish into a weapon by tossing it onto Blacknell, who screamed in agony and ran away. According to police, the grits caused second- and third-degree burns across 30 percent of Blacknell's body. Another man standing next to Blacknell suffered collateral damage in the form of arm burns.
The two had argued the night before, and Holley would later tell officers that he and Blacknell had shoved each other. He further complained that Blacknell followed him to a friend's house, which enraged Holley enough to threaten a future grease scalding. He delivered when finding Blacknell on his premise the next day.
According to the arrest report, Holley was extremely agitated when telling this to police, and he also stated that it was all Blacknell's fault because of the argument the night before, and that he "should have killed him and next time he will." A next-door neighbor told officers that Holley picked fights with Blacknell all the time, and that he was the real problem.
Holley was arrested and charged with attempted second-degree murder with no bond. Blacknell, on the other hand, will face months of excruciating scrubbing and multiple surgeries to remedy his burns.
Holley's arrest report ends by justifying the attempted murder charge "based on Holley's admission to throwing the grease on Blacknell, which a person of ordinary judgment would know is reasonably certain to kill or do serious bodily injury; and was done so in ill will, hatred, spite and evil will; and the act itself is of such a nature it indicates an indifference to human life, demonstrating a depraved mind."