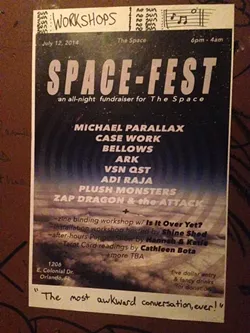 The stairs leading up to the Space.
They're calling it "the most awkward conversation, ever," and what better way for a humble DIY effort like the Space to publicly admit they need help ($$) on a flier for the upcoming Space-Fest. The idea is for those who have been positively impacted by the addition of this grassroots venue on the Orlando arts scene to come out for an eclectic night - zine-binding workshops with Is It Over Yet?, installation workshop with Shine Shed, community garage sale, tarot readings by Literocalypse's Catherine Bota, puppet shows by Ibex Puppetry's Hannah Miller - for a donation-based evening of learning, seeing, doing and, of course, hearing. The night's soundtrack will be provided by a range of area bands, including Zap Dragon and the Attack, the Plush Monters, Case Work, Bellows, Michael Parallax, Ark, Adi Raja and Vsn Qst. (RSVP)
Event info: 6 p.m.-4 a.m. Saturday, July 12 at the Space
The party goes all night, past normal bar hours (4 a.m.), so even if you have other plans, you can still show support at the end of your night. While the Space is still quite young, it's quickly become a vital part of the Orlando creative community, embracing whimsical ideas - naked yoga classes, literary readings, artsy events like the Caress of Progress (our arts critic called this show "intoxicatingly original") and I Believe in You ("an interwoven group of experimentalists, knitted together by friendship and mutual admiration") - and has made itself available to local musicians across multiple scenes, metal, punk, pop, dance, everybody is welcome.
Hearts in unison: Photos from Michael Parallax, Dromes and Michael Serrin at the Space
The stairs leading up to the Space.
What's more, the folks who operate the Space have even bigger dreams than what the original venue can contain, meaning if they can get enough momentum, we could be seeing more venues like this cropping up in other neighborhoods or further diversifying Mills 50. It's very exciting, and the thought that the fledgling efforts at the Space could be thwarted due to funding is cause for many local creatives to be concerned. For more info or to find out other ways you might be able to help keep the Space occupied by adventurous, active minds, email info@thespaceistheplace.com.
If you have a testimonial as to why you think the Space is valuable to the Orlando community, I want to hear from you. Email abelanger@orlandoweekly.com or comment below.
Check out these galleries for a peek inside just a few of the events hosted at the Space:
Hearts in unison: Photos from Michael Parallax, Dromes and Michael Serrin at the Space