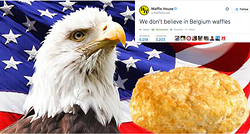 Thanks to the extremities of sportsballism, Americans today find themselves urged to avoid waffles. Why? Because 4 p.m. today in FIFA World Cup: USA vs. Belgium, and Belgium = inventor of the waffle. So it's sort of like when the Congressional cafeteria renamed french fries "freedom fries" because France opposed the invasion of Iraq (oops!) except marginally less stupid, because it's one thing to be juvenile about sports – it's kind of the point, or at least a big part of the fun — and another to be juvenile when lives are at stake.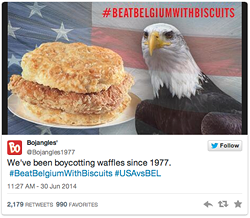 HEY WE KINDA GOT OFF-POINT THERE. Ahem. Apologies, folks. Never mind all that war stuff. This is about you being able to eat a delicious waffle without feeling that you're betraying your country, or at least these guys. Yes, you can do as Bojangles suggests and stick with biscuits. (May we suggest this one, if that's your speed.) Obvious choice Waffle House (click that link to find one near you) joined in on the "ban," so you're safe there. But where else can you eat a waffle that feels properly Amurrican? A few suggestions below, but please add your own if you've got one. And tomorrow, unless a Belgian bites an American player or something, we can put this anti-Eggo breakfast pastry Balkanism behind us. We'll just be at home, counting the hours until we can safely pop another Wittekerke.
Chef Eddie's: quarter-chicken and pecan waffles
"Eddie James could very well be serving the finest comfort food in town."
3214 Orange Center Blvd., 407-826-1731
Melissa's Chicken & Waffles (food truck): s'more waffle
"Melissa's hits the ever-so-sweet spot with just a few simple ingredients: fluffy warm waffle, melted Nutella chocolate spread and crispy, singed mini-marshmallows."
facebook.com/melissaswaffletruck, twitter.com/melissaswaffles
Shantell's Café: chicken and waffles
"Chicken and waffles brought a bit of Northern Soul to the Deep South. The batter on the chicken was teased with cinnamon, thyme and some of Williams' proprietary all-purpose barbecue seasoning."
406 S. Sanford Ave., Sanford, 407-732-7728
So where you gonna waffle?