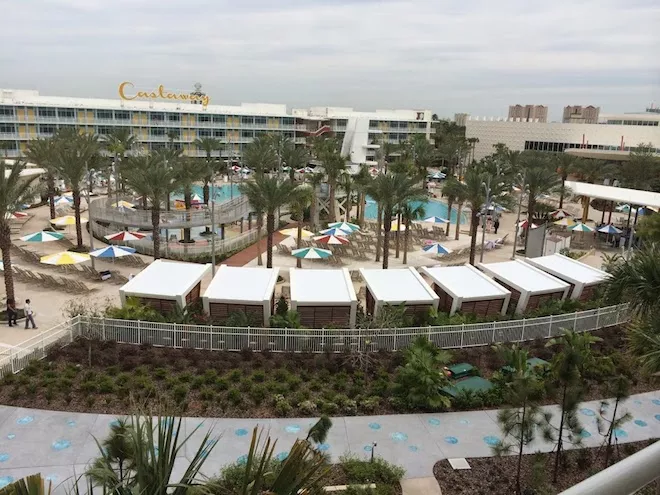 60 fabulous photos of Universal's new Cabana Bay Beach Resort
60 fabulous photos of Universal's new Cabana Bay Beach Resort
There have been rumors that Universal Studios has plans to add a water park since about 2011, when they filed a trademark for the term "Wondersea Island." The trademark, filed for use as "entertainment services in the nature of water parks," was just renewed for a fifth time in January of this year. A new trademark filing for "Volcano Bay" is adding fuel (er, water?) to the rumors. If built, the new park will go up just south of Universal's new Cabana Bay resort.
The filing states that the term "Volcano Bay" could be used for "entertainment in the nature of a water park ride." So, it's entirely possible that Volcano Bay could just be one section of the new park and not the entire thing. 
"Volcano Bay" has a lot of possibilities. Parkscope suggests that the name would be ideal for the wave pool section of the park: you know, a big volcano in the background that "erupts" every seven minutes or whatever, causing crazy tidal waves in the pool. However, it would be super-awesome for the "danger" area of the park, with the volcano acting as a home to the parks thrill-seeking slides: you know, the ones where you're put into a vestibule, the ground just falls out from underneath you and woosh! Wedgie.
Whether the park ends up being called Wondersea Island or Volcano Bay, Universal's got a lot of already-existing properties that would make some pretty sweet water park attractions:
Dr. Seuss' McElligot's Pool Kids Zone: More than just your standard kids section of a park with obstacles and tiny slides and shooting implements, this filled with attraction would feature a lake underneath the pools, filled with fish and other Seuss-ian creatures.

Hogwarts The Great Lake Water Slide: Imagine a tunnel slide that has video screens embedded in the walls, featuring merpeople, grindylows and competitors in the Tri-Wizard tournament, with a black bottomed splash landing pool where riders are greeted by the giant squid.

Weather Event Lazy River: Universal owns The Weather Channel, so they could totally up the drama in the standard lazy river. Add in some thunderstorms, tornados in the distance and maybe even a flurry or two and lazy could get pretty damn exciting.

American Ninja Warrior Adult Obstacle Course: Way more advanced than those inflatable ones you sometimes see around the 5k circuit, this water obstacle course could include all the favorites from the NBC show: the warped wall, slalom ladder and globe grasp. We just hope they make them out of something soft ... like foam. Otherwise that section of the park would require a separate waiver.
And even though it's owned by Warner Brothers, Universal Orlando's the only theme park we'd trust to re-create the water slide from The Goonies properly. Seriously, what isn't that a thing yet?!