Photo by Christopher Garcia
Photo by Christopher Garcia
While most music fans plan their concert schedules based on who is playing and not where they're playing, buying tickets to a show at a venue you've never been to can certainly be risky. What's more, knowing the pitfalls of the space can actually impact your decision to buy the ticket, and so it's natural that music fans might turn to Yelp for guidance on questionable concert opportunities. And while you cannot trust everybody on Yelp, it is typically easy to sort through the brackish waters to find the review that helps you make that informed decision: Should I stay or should I go?
I was curious to see how Yelp rated Orlando's smaller music venues (read: not Hard Rock, House of Blues, Amway). I found myself nodding along with complaints and compliments alike, but I was most entertained by the reviewers (poets?) who seemed to buff their posts a little longer than the average nightcrawler. Here are my top 10 favorite reviews, with obvious preference given to mysterious scene documenter "Jesse B., Casselberry, FL." (Please note the dates, these are not all recent reviews.)
**Update: Our A+C editor informs me that "Jesse B." is not simply the morose Yelpster I assumed he was, but that these reviews are part of an ongoing series of prose poems by Pushcart Prize-nominated local writer Jesse Bradley. Whether this makes you like his reviews more or less is up to you.
10. ... and there was a hippie at Plaza Live
9. The chubby hobbit at Firestone Live
8. "Hulk Smash" at the Social
7. The cruelty of cowboys at Will's Pub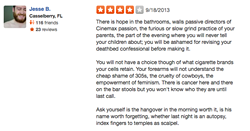 6. The cryptologist at the Beacham
5. A diamond in the rough at Plaza Live
4. Caked in soot at Backbooth
3. The tattoo-sleeved chick at Will's Pub
2. Wall of poison at the Beacham [Full disclosure: The writer of this post is friends with this reviewer but only happened upon it today, much to her delight. Other friends on Yelp: Step up your game.]
1. Letters from our 22-year-old selves at Backbooth