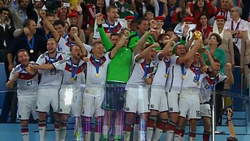 When I wrote a few weeks ago that I couldn't see a way that Brazil would lose, it was true. They did lose -- they were humiliated, even -- but I don't think anyone could have foreseen their two best players, Neymar and Thiago Silva, having such a nightmare of a time.
Neymar broke his back for his country, literally; Thiago just lost his mind. It left Brazil's cupboard bare in the crunch time semi-finals against a lethal Germany who would go on to lift the World Cup Trophy.
It was the best World Cup I've ever seen, but there were winners and losers to consider outside of the final results.
WINNERS
James Rodriguez (Colombia): Even though he pronounces his name in the silly way, no one lifted their international profile as much as the Golden Ball winner, who scored six goals and scored in every match for Colombia.

Alexis Sanchez (Chile): Alexis lifted his profile as well with this two goals and superb performances, and secured a move to Arsenal shortly after Chile were eliminated.

Guillermo Ochoa (Mexico): Is he really that good, or did he just have a good tournament? Someone is going to pay him a lot of money to find out.

Neymar (Brazil): Even though his tournament ended with an unfortunate injury, he lit up on the world stage.

Miroslav Klose (Germany): The Polish-born German became the all-time leading goal scorer in World Cup history with his goal in the mauling of Brazil.

Thomas Müller (Germany): Müller was the Young Player of the Tournament in South Africa 2010 and picked up right where he left off, adding five more goals (and three assists) to the five goals (and three assists) he scored in 2010. He is the very model of the modern German footballer.

Javier Mascherano (Argentina): He was an absolute rock for Argentina in the middle of the park.

Tim Howard (USA): Had probably the greatest single game of the World Cup in the round of 16 match against Belgium. Shame it was a losing effort, but he was a brick wall.

Keylor Navas (Costa Rica): Navas was probably the biggest reason that the small nation made it to the quarter finals.

David Luiz (Brazil): He of the clown-hair curls had an amazing World Cup during the group stage and against Chile and Colombia...
LOSERS
David Luiz (Brazil): ...but then came the match against Germany. Though he wasn't fully to blame (more next), he had a real shocker of a match. Probably the worst match of his life. Though he was probably playing above his abilities in the early matches, he's not this bad.

Thiago Silva (Brazil): If you polled football fans around the world, Thiago Silva would probably be at the top of most people's Best Defender list. His stupid yellow card challange against Colombia's David Ospina left him in the stands for the semi-final against Germany, and he was burned badly by Robben in the third place match and should have received a red card.

Aryen Robben (Netherlands): For all of his sizzling pace and footballing vision, he's an unbearably despicable player with all of the diving theatrics. He's too good to be that poor of a sport.

Fred (Brazil): Not to pick on Brazil, but the nicest thing you can say about Fred was his mustache was ugly as hell. That's how bad he was on the pitch.

Michael Bradley (USA): I think he played this World Cup, but I'm not sure. I didn't see him.

Lionel Messi (Argentina): The saddest boy who ever won the Golden Ball. I do feel slightly bad for him. Even though he's won all of these personal and team titles, this was probably the last chance to win the World Cup (at least in his prime) and he couldn't lift his team the way Maradonna did in 1986 Mexico. It didn't help much that Higuain was a waste of minutes on the pitch, or that Aguero and Di Maria were injured, but Germany had injured players on the field as well.
So, that's it. For once, the tournament was better than the commercials. And we'll sign off with Lukas Podolski and Bastian Schweinsteiger celebrating the right way.