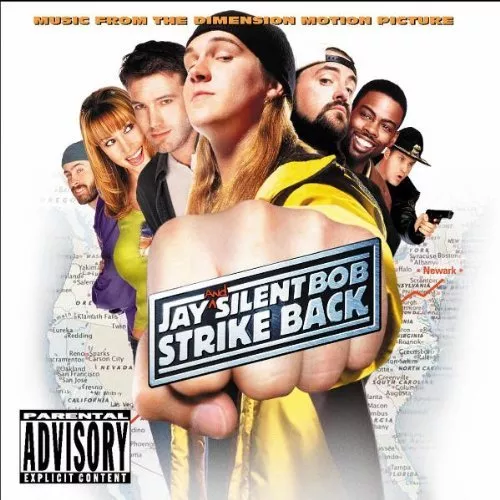 via
Update: Due to inclement weather last week, Jay and Silent Bob Strike Back was not able to be shown at the Enzian. You're in luck though! It was rescheduled for Wednesday, July 23.
Kevin Smith is a generation-defining director, beginning with the classic (are we calling movies from 1994 classics already?) Clerks and other gems like Mallrats, Chasing Amy and, this writer's personal favorite, Dogma. Not all of his movies were quite as well-received, though.
Smith caught a lot of shit for Cop Out with Tracy Morgan, as well as Jersey Girl, starring (then-lovers) J-Lo and Ben Affleck. Granted, Cop Out was pretty much crap, but we think Jersey Girl got unfairly mixed up in all the Gigli (it, too, starred Affleck and Lopez) hate of the early 2000s. The story's a bit cliche and saccharine, yes, but how can you resist one of George Carlin's last on-screen appearances, especially when it includes a kid-helmed version of Sweeney Todd:
Smack in the middle of the good and the bad of Kevin Smith's work is Jay and Silent Bob Strike Back. Taking the two stoners out from in front of the Quickstop and putting them in the spotlight, the film follows the friends on a journey to sabotage the big screen adaptation of the Bluntman and Chronic comic book that Banky and Holden (from Chasing Amy) based on their lives. Hilarity and fuck-ups galore ensue.
Keep an eye out for:
Carrie Fisher and Mark Hamill appearing in a film together for the first time since Star Wars: Episode VI - Return of the Jedi

Kevin Smith's real-life wife playing one of the jewel thieves

George Carlin as a hitchhiker

Tracy Morgan as drug dealer "Pumpkin Escobar"

Ben Affleck playing three (hint, one is audio only) roles
Jay and Silent Bob Strike Back is not the most intelligent or even the funniest of Smith's movies, but it's a damn fun time, making it a perfect choice for the Enzian's Wednesday Night Pitcher show. Grab a beer (or three) from the Eden Bar, spread out your blanket and enjoy. Show up early (we'd say 7-ish) for Jell-o shot trivia before the show.
When: 8 p.m. Wednesday, July 16 July 23
Where: The lawn of the Enzian
Cost: Free