This Little Underground
is Orlando Weekly's music column providing perspective, live reviews and news on the city's music scene. Read the latest column
here
.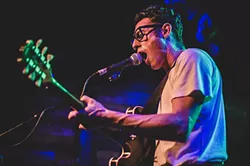 Same indifference: Photos from Iska Dhaaf and the Welzeins
Same indifference: Photos from Iska Dhaaf and the Welzeins
(photo by James Dechert)
Although its two members bring credentials from membership in notable Seattle groups like Dead Oceans recording act Mt. St. Helens Vietnam Band and firebrand rap crew Mad Rad, Iska Dhaaf is a new band that's been making some early underground waves. Their protean sound – which ranges from stiff-wire post-punk to galloping indie rock to trad psych to sonorous surf – almost seems custom-built to hit tastemaker G spots. Even though their debut album, this year's Even the Sun Will Burn, is dizzyingly diverse in a way that plays more like a mixtape than the unified work of a single band, it does show their ability across a spectrum.
After this early glimpse of them on their first national tour (July 14, Backbooth), it's pretty clear that this is a band with real potential. For just a duo, they cover extraordinary ground and deliver a lot of show with an arrangement where both members sing, the drummer also plays keys and the guitarist also plays organ. But the live heat and atmosphere of their performance went a long way in connecting their disparate aspects. And the remaining salient thread is a direct energy that shines with melodic precision and tasteful tones. Iska Dhaaf's an unusual name but might as well get used to it. You could be hearing it more in the future.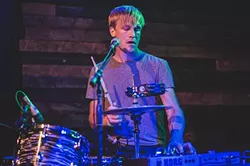 Iska Dhaaf at Backbooth (photo by James Dechert)
Freshly emerging from a revamp under guitarist-singer R.J. Nordstrom, local band the Welzeins also played. They're still a two-piece, just with perhaps a more technical drummer in new member Matt Wassum. The main reason to like them is because they're exciting and good. But the thing that makes them kick even more ass is that, when they first walk up on stage, they look like the most unlikely rock stars possibly ever. And then they plug in and tear it up, finally revealing that they are in fact one of the most rock & roll duos around. Their sound is garage-built, grunge-smeared and punk-spirited. And it can go from Jay Reatard's velocity to Hendrix's fire with raw power. The result is all crank, no wank.
Iska Dhaaf at Backbooth (photo by James Dechert)
The Welzeins at Backbooth (photo by James Dechert)
Read more This Little Underground:
The Welzeins at Backbooth (photo by James Dechert)