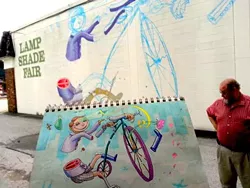 with Derek Donnelly in St. Pete
Prime mural real estate is being snatched up at an alarming rate this summer as more and more businesses in Orlando decide to hop on the muralist gravy train - because art!
The Mills 50 Main Street District announced on their Facebook page yesterday afternoon that they'd be getting a new addition to their ever-growing roster of public art pieces ... and on one of the most coveted walls in the neighborhood to boot, the south-facing side of the Lamp and Shade Fair on Mills Ave.
This snazzy wall is being done by St. Pete artist Sebastian Coolidge who is in town this week working with Pabst Blue Ribbon on a number of promo art pieces at local bars.
What do you think of the piece so far?
Check out some of his other mural pics that we pulled from his Facebook: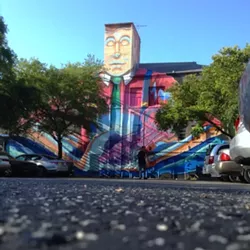 with Derek Donnelly in St. Pete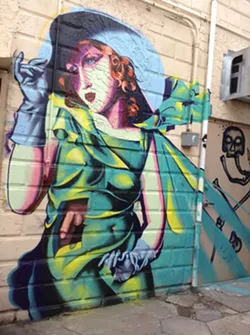 "Faceless Desire"
at The Bends in St. Pete