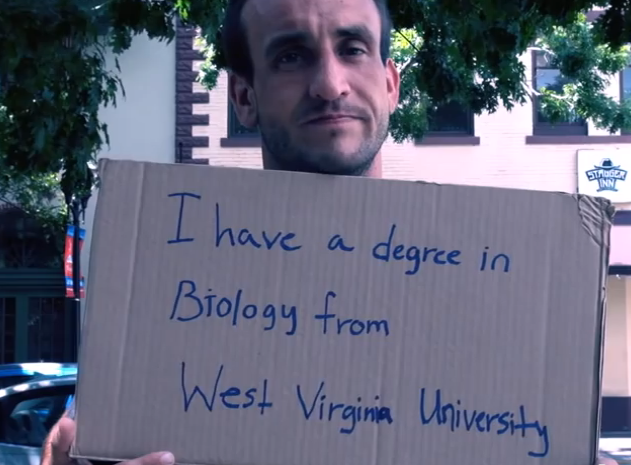 If you haven't already seen it, you really should watch the Central Florida Commission on Homelessness' new video series, branded #RethinkHomelessness. Here's the one that's been making the rounds on social media. It's called "Cardboard Stories." If features images of homeless people from around Orlando who were asked to write a message about their situation on a piece of cardboard to share with the world. The things they reveal about themselves are breathtaking – watch for the woman who says she gave up her children so they wouldn't have to grow up homeless, and the man who holds a sign saying he's recovering from open-heart surgery, then reveals the scars on his chest to the camera. Also, the guy whose sign says "I've built robots."
One of the things we love about these videos is that they challenge people's preconceived notions of who the homeless in our community are, or why they may have become homeless, or that they don't do anything to try to improve their situations.
"We need to change the way people look at homelessness if we are going to find solutions for those in need," Andrae Bailey, CEO of the Central Florida Commission on Homelessness, which made the videos, wrote in an emailed message to local media this week. "The homeless are people, just like you and I, that were usually impacted by some sort of tragedy."
When we first saw the videos, posted simply as a project called Rethink Homelessness, we had no idea they'd been produced by the commission, which has been addressing homelessness in Central Florida for as long as we can remember. But the commission, like a lot of service organizations, is changing its approach to advocacy – rather than trying to address the local homelessness problem simply by putting Band-Aids on it, it's trying to engage the community take an interest in the homeless and, well, Rethink Homelessness.
The Commission says it plans to use the Rethink Homelessness videos as a "launch pad" for its new programs and initiatives to get homeless individuals into homes of their own. In other words, the Commission isn't just rethinking homelessness – it's rethinking its advocacy for the homeless. We look forward to seeing more.