Image via Inside the Magic
Image via Inside the Magic
In last week's Tip Jar, we reported the opening of the Hot Dog Hall of Fame at Universal CityWalk, just 20 days before National Hot Dog Day. The restaurant (no, it's not a museum; yes, we were disappointed too), located right across from Antojitos, offers a wide variety of franks, including regular old hot dogs (some up to two feet long), Chicago style Red Hots, and five different types of sausage. Their condiment bar is pretty epic, featuring standards like sauerkraut and chili sauce and a next-level mustard bar (curated by the National Mustard Museum in Wisconsin), where you can top your dog with 12 different kinds of the tangy yellow stuff. 
And their fries? Boy, oh boy do you have options: shoestring, hand-cut, waffle-cut, sweet potato and even eggplant. And if you want to be a bit more adventurous with your side, give their stuffed dumplings a taste.  Get the garlic black bean sauce for dipping. It is lip-smacking good.
Image via Kangaroo Express
From 6 a.m. to 11:59 p.m Wednesday, July 23, you can score a free hot dog from participating Kangaroo Express stores in celebration of National Hot Dog Day. Just show the clerk your military ID or your Kangaroo Express Mobile app and a hot dog fresh (-ish?) off the rolly grill could be yours for no charge. If it takes more than just a single dog to satiate your frank craving (or if you don't have a military ID and don't want to download the app), show up between 4-8 p.m. and pay just 50 cents each for up to four dogs.
Looking to celebrate National Hot Dog Day with a high quality hot dog? Try one of these locals: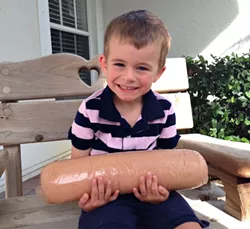 Photo courtesy of Big Hot Dog
In what is probably our oddest bit of wiener news, let us introduce you to the new Chief Executive Officer of Big Hot Dog, Winston Danger Abbate. Big Hot Dog provides just that: gigantic hot dogs. At seven pounds and 40 servings per frank, the big dog has secured a spot in the Guinness Book of World Records as the world's largest commercially available hot dog. The new CEO of the company turns 3 on July 22 and seems wholly uninterested in his new position in the family business. When asked for comment, he said, "I like this hotdog. I like to eat it." Well, at least he has a passion for the product.