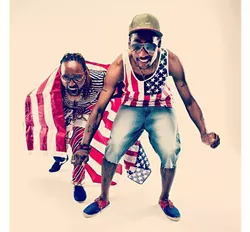 34 fun things to do in Orlando this week
34 fun things to do in Orlando this week
With one more month of summer left, your pocketbook may be dry from vacations and weekend excursions. To ease your financial burden, we have uncovered some free weekend events in the Orlando area for you to live large on a budget.
Located on the Rollins College campus overlooking Lake Virginia, the Cornell Fine Arts Museum holds a series of monthly workshops and family friendly events. This Friday, museum curator, Amy Galpin, discusses the work of Margaret Bourke-White and Richard Mosse.
When: 11 a.m. Friday, July 25
Where: Cornell Fine Arts Museum, Rollins College, 1000 Holt Ave.
Learn more about Orlando Critical Mass
Pedal in "the world's largest monthly bike ride." Orlando Critical Mass meets at Loch Haven Park every last Friday of the month and departs promptly at 6 p.m.
When: 5:30 p.m. Friday, July 25
Where: Loch Haven Park, 900 E. Princeton St.
[youtube_sc url="https://www.youtube.com/watch?v=2AhJymlCa6Q#t=13"]
Stroll down First Street for local artist displays at area galleries, live music, shopping and dining opportunities. The art walk occurs on the fourth Friday of every month in Sanford's downtown historic district.
When: 6-9 p.m. Friday, July 25
Where: Downtown Sanford, Sanford Avenue and First Street
View Ronda Richley's art work
See a live flamenco show at Ceviche—a romantic tapas bar by Church Street Station. The complimentary dancing performance is a weekly occurrence at the Downtown restaurant.
When: 9:30 p.m.-1 a.m. Friday, July 25
Where: Ceviche Tapas Bar and Restaurant, 125 W. Church Street
Food and Drink: Lazy Moon Pizza
"Hasta la vista, baby!" Embrace your hidden Arnold Schwarzenegger obsession with a charity event that celebrates the actor's birthday with a movie marathon.Expect Arnold quotes, costumes and,of course, birthday cakes.
When: noon-2 p.m. Saturday, July 26
Where: Lazy Moon Pizza, 11551 University Blvd.
Have a fun day on the water with inflatable obstacle courses. This water friendly fundraiser strives to "wipeout blood cancer" and raised  $10,000 for Leukemia research last year.
When: noon-5 p.m. Saturday, July 26
Where: Lake Conway Orlando
Lil' Indies usually graces Orlandoans with local entertainment on the weekends, but they have another hidden talent: sewing. Grab your handy needle and thread for a free sewing and alterations class at the music venue.
When: 4:30-6:30 p.m. Saturday, July 26
Where: Lil Indies, 1036 N. Mills Ave.
Ronda Richley is an Orlando-based artist with a diverse portfolio of still lifes, callographs and drawings to name a few. The opening reception for her solo exhibition will be held at Lucy Bleuz—a jazzy cafe in south Downtown.
When: 6-9 p.m. Saturday, July 26
Where: Lucy Bleuz, 1321 Sligh Blvd.
The Alley in Sanford hosts a jam session every Sunday evening with Doc Wilson. End your weekend on a smoky note with some blues. The Alley on Park Avenue hosts a jam session every Sunday evening with Doc Wilson
When: 5-9 p.m. Sunday, July 27
Where: The Alley, 114 S. Park Ave.
Acoustic Open Mic with Chris Dupre
Muldoon's in Winter Park is a laid back rock venue that brings in live entertainment Friday through Sunday. They usually reserve their live acoustic jams to end the weekend, and this Sunday's performer is Chris Dupre.
When: 9 p.m. Sunday, July 27
Where: Muldoon's Saloon, 7439 Aloma Ave., Winter Park