Ah, the
Disney wedding
: two words that are expensive enough independently without even considering the chunk of change they elicit when merged into a single entity.
Today's average (non-Disney) wedding costs thousands of dollars, and taking a trip to Walt Disney World isn't cheap either. So if you're looking at a traditional-type wedding AT Walt Disney World, you'd better either be really well off financially or prepared to pay off a bill for years to come.
Luckily for us Disney-loving plebeians, there are ways to Disney up your own wedding without dipping into your retirement fund — especially since we already live so close to the parks. Here are my favorite tips.
1. Theme it.
Get creative! Want an entire Disney-themed wedding? Go for it! This bride dressed as Ariel and had all her bridesmaids dressed as Disney Princesses: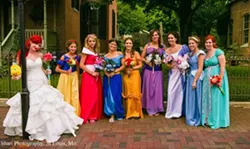 shariphotography.com
You can always go more subtle, too. Maybe name your tables after Disney couples, or have a Disney song for your first dance. Serve Italian or French food as a nod to Lady and the Tramp or Beauty and the Beast. Buy a Disney Princess-inspired gown. Incorporate Disney into your invitations. Make your engagement photos Disney-inspired. There are so many possibilities I couldn't even begin to cover them all, so go browse Pinterest and Etsy to see for yourself.
2. Wedding-fy your Disney instead of Disney-fying your wedding.
Let me explain further, since I used two words I just made up: Celebrate the fact that you're getting married while you're at Walt Disney World — in essence, give your Disney trip a wedding edge instead of the other way around.
For example, these ear hats exist:
Mine is cuter because of the veil, but his has tuxedo tails.
Mine is cuter because of the veil, but his has tuxedo tails.
As do these useless-yet-undeniably-adorable MagicBand attachment thingies (scientific name):
Image credit: Cruisemates.com
Other ideas for wedding-related things to do at Walt Disney World:
Get "Happily Ever After," "Just Engaged," and/or "I'm Celebrating!" buttons from Guest Services for free

Wear "Mr." and "Mrs." shirts

Paint your faces in your wedding colors (just not in the summer)
Do whatever you feel like doing to combine your matrimonial bliss with a visit to your favorite mouse. Just be prepared to either awkwardly say, "It's coming up!" or lie through your teeth to everyone who congratulates you and asks when you got married. Back in March when Josh and I got our wedding ears, we had a cast member announce to the entirety of the Liberty Inn restaurant that we were "on our honeymoon." He also said Josh's last name wrong. I also tried to run away and was thwarted. But I did get a free brownie, so that's something. I've considered not wearing the ears again but they aren't cheap so I'm getting full use out of them, damn it.
3. Save it for the honeymoon.
Aside from the fact that you'll save money by having a Disney honeymoon instead of a wedding at Walt Disney World, fewer people will think you're crazy if you make your honeymoon about Disney instead of the entire event — mostly because they won't be there (hopefully). A totally involved, well-researched and definitely-not-at-all-random Google search tells me that Disney Cruise Line was the cruise line ranked highest in customer satisfaction last year.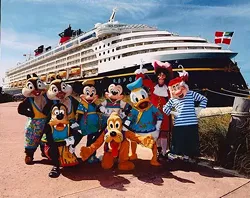 They're obviously too important to actually come, but this is cool too.
Image credit: Cruisemates.com
Before you roll your eyes and start with the "OMG, UGH, KIDS!", there are TONS of benefits for adults, including but not limited to:
Adults-only restaurants

An adults-only pool with whirlpools and a dedicated bar and café

Nightclubs and lounges

A spa and salon

The adults-only Serenity Bay Beach on Disney's private island, Castaway Cay
If the price is keeping you from sailing, opt for a smaller room or shorter trip. Or even plan your wedding during an off-season for cruising (i.e., winter), or take your honeymoon later so you can get the best cruise deals. Or have your wedding on the ship and you're on your honeymoon as soon as you say, "I do."
4. Invite Mickey and Minnie.
Did you know that if you send Mickey and Minnie an invitation to your wedding, they'll send you an autographed photo and some buttons?
Image credit: WeddingWire.com
They're obviously too important to actually come, but this is cool too.

Image credit: WeddingWire.com
Just send your invitation to:
Mickey and Minnie Mouse
1675 N. Buena Vista Drive
Lake Buena Vista, FL 32830
Apparently, you can also reach out to other characters and get cool stuff too.
5. Downsize that beast.
If you just HAVE to get married at Walt Disney World but can't front the bill for a big wedding, you can always take a look at their Memories- or Escape-collection weddings. These events allow up to four and 18 guests, respectively, and as a result are much more reasonably priced — the Memories collection starts at $2,495 and the Escape at $4,925. So if having your wedding at Walt Disney World is more of a priority than having everyone you know in attendance, this could be a great option for you.
Have any other ideas to add Disney flair to a wedding without breaking the bank? Let me know in the comments!