Best Of Orlando 2014
 week was a whirlwind, and we're sure you're ready to call it a day. But you've still got some time left before you can neaten the piles on your desk, turn off the lights and get your ass out to experience all the awesomeness Orlando has to offer. Here are some links that should help make those seconds tick by just a little bit faster: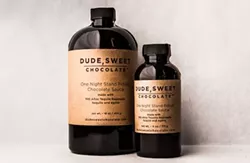 image via Dude, Sweet Chocolate
image via Dude, Sweet Chocolate
1. The folks over at Dude, Sweet Chocolate (btw ... Dude, sweet name) have created a magical concoction that begs to be poured over ice cream or used in a fancy, alcoholic affogato. The Texas-based artisan chocolatier's One Night Stand Potion Chocolate Sauce is a tasty-sounding mixture of 100 Anos Tequila, pure agave, South American Chocolate and Valrohna cocoa powder. And, if tequila makes you gag, they also make a Break-Up Potion Chocolate Sauce that replaces the tequila with artisanal bourbon. Either way: yum. 
2. No matter how old you are, there is a certain joy in throwing water balloons at people. There's also a certain pain in it, particularly the one in your fingers from tying a million tiny little knots and the one in your back from spending all that time filling up balloons one by one. A Texas dad has invented the solution to all your summertime water balloon issues with Bunch O Balloons. They claim it fills up to 100 balloons in a minute, and the best part is that they automatically tie themselves.
The Legend Lives: Photos with Master Legend at the Best of Orlando 2014 party
The Legend Lives: Photos with Master Legend at the Best of Orlando 2014 party
3. We had a legitimate super hero at our Best of Orlando 2014 Party on Wednesday ... and a unicorn!
4. Shark Week starts August 10 on the Discovery Channel and Dunkin' Donuts is getting in on the fishy celebration, by release a special Shark Week Donut. By the looks of it, it's just a standard yeast donut with red and white frosting that looks like a life preserver. In addition to the special donut (DD's first since the great Simpsons Movie donut failure of 2007), the donut chain is also launching a social media promotion: just take a pic of you taking a bite of your favorite breakfast item and use the hashtag #DDSharkWeek. You could win a $100 gift card and Shark Week prize pack.
5. And for our dose of adorable this week, check out this dog attacking and eventually defeating a shark. (not a real one, just one of those remote controlled mylar balloons.)