This Little Underground
is Orlando Weekly's music column providing perspective, live reviews and news on the city's music scene. Read the latest column here.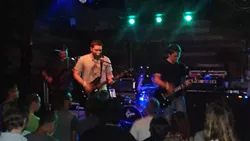 Europa at Backbooth
I arrived for a show headlined by a couple Atlanta touring acts (July 31, Backbooth) just in time to catch local opener Europa, who do an agonized but expansive kind of rock that blends emocore with math ambition. With the crossroads they straddle, their music could easily have turned out one mess of a mongrel. But, surprisingly, it's not. They're a solid squad that plays with size, technique and tightness. Sometimes sensitive dudes need to rock out too, ya know.
O'Brother at Backbooth (photo by James Dechert)
O'Brother at Backbooth (photo by James Dechert)
Atlanta's O'Brother is also a group of emotional guys. But rising from the heavier side of post-rock, their sound is a much bigger storm, especially live where their softer tendencies are checked and their more forceful strokes are emphasized. They may work that high drama but at least they crank it to epic scale and drive it with moving dynamics.
Royal Thunder at Backbooth (photo by James Dechert)
Royal Thunder at Backbooth (photo by James Dechert)
But owning this night was fellow Atlantans Royal Thunder. Despite the metal prestige that being a Relapse band strongly implies, they're more hard Southern rock, and they pack a blend of evocative forces that immediately distinguish them from the pack. Like the Kills' deadlier swamp cousin, they're a mighty, blues-greased, smoke-thick hex rising from the dark South. And their stoned heaviness is all power, atmosphere and sex.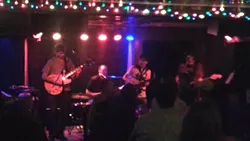 Leisure Chief at Tanqueray's
Leisure Chief at Tanqueray's
Afterwards, Leisure Chief was holding down their weekly residency (Tanqueray's). Most know them as Buster Keaton, but they just officially changed their name. They're one of the younger acts rising in the local groove-band scene and it's easy to see why. Their jam-friendly merge of polished funk and jazz is chill but kinetic and professional but not too self-serious. The result is a modest but enjoyable band that, rather than be distracted with trend, just cares about locking it down and keeping the spot lively every Thursday. And this band in this venue is a perfect combination.
Read more This Little Underground: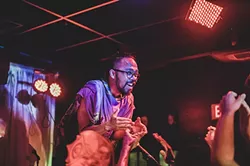 Body//Talk brings L.A.'s Spazzkid