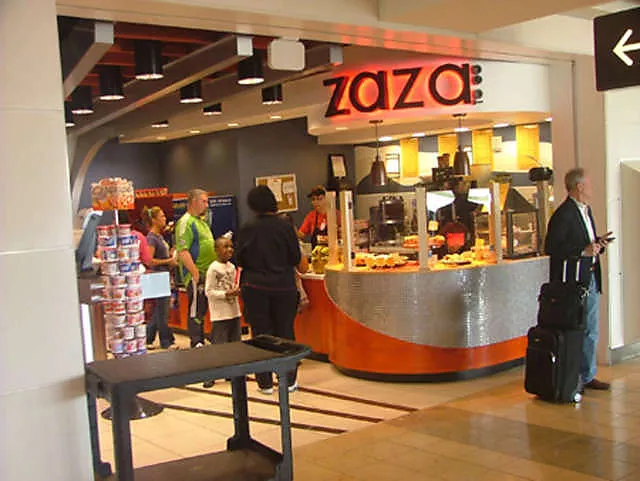 Seriously? The Daily Meal must have skipped right over Zaza Cuban Coffee.
Seriously? The Daily Meal must have skipped right over Zaza Cuban Coffee.
Image via Urbanspoon
According to the Daily Meal, if you're flying out of Orlando International Airport, You shouldn't show up hungry. OIA came in for a not-so-smooth landing at the No. 8 spot on the foodie website's list of the 11 Worst Airports for Food. Orlando is joined by two other Florida airports on the ranking: Palm Beach International Airport and Fort Lauderdale-Hollywood International Airport.
Here's what the Daily Meal had to say about MCO's foodie situation:
"This is obviously not the 'house the Mouse built.' O-Town's airport food courts are more 'oh my' than magical. Millions of theme park-bound travelers can find plenty of shops, restaurants, and even a spa at Orlando International Airport, but the fast-food options, from Carvel to Starbucks, are overwhelming and the airport hotel restaurants are underwhelming. When we wish upon a star, we hope we won't ever get hungry here."
Obviously, they completely overlooked the wonder that is Zaza Cuban Coffee in the airside section of the airport. Zaza's got some of the best coffee in Orlando and, rumor has it, theirs is the brew many flight crews use to fuel up before a trip. Toss in a couple of guava pastries (or a pressed-to-order Cuban sandwich), and you've got some damn good airport eats. And we know they pooh-pooh-ed the hotel restaurant offerings in the airport, but McCoy's Bar and Grill at the Hyatt is worth a second look, especially since their renovation.
But, other than those, yeah, we see where you're coming from Daily Meal; we get a teensy bit jealous when we hear about some of the other airport food available out there (we're looking at you, Dallas-Fort Worth.)
When determining the rankings, the Daily Meal focused only on airports close to the most popular travel destinations around the world, consulting both travel and food experts alike. Taking the top (or is that bottom?) spot on the list was China's Beijing Capital International Airport.
Here's the complete list:
1. Beijing Capital International Airport (China) 2. Noi Bai International Airport (Vietnam) 3. Guangzhou Baiyun International Airport (China) 4. Luis Muñoz Marin International Airport (San Juan, Puerto Rico) 5. Soekarno-Hatta Airport (Jakarta, Indonesia) 6. Palm Beach International Airport (Florida) 7. Cancún International Airport (Mexico) 8. Orlando International Airport (Florida) 9. Gatwick Airport (United Kingdom) 10. Adolfo Suárez Madrid-Barajas Airport (Spain) 11. Fort Lauderdale-Hollywood International Airport (Florida)