Today, the Florida Senate approved new congressional maps, in the wake of Circuit Court Judge Terry Lewis' ruling that the maps for Congressional Districts 5 and 10 were totally jacked – see our recent stories
here
and
here
. The old district maps looked like this:
And take a look at the new maps below.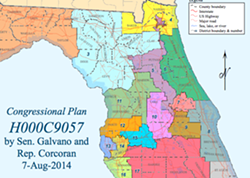 Still totally jacked. The Florida House
is still considering the maps. 
just voted to approve the new map, 71-38. 
UPDATE:
Today, the League of Women Voters and Common Cause issued a statement blasting the Legislature for abdicating its duty to abide by the Fair Districts amendment to the Florida constitution:
"We are disappointed to see that the remedial map approved this week by the Florida Legislature looks suspiciously like the map that Judge Lewis ruled unconstitutional and the fact that it was drawn behind closed doors only adds to the suspicion," said League of Women Voters of Florida President Deirdre Macnab. "The Legislature continues to make a mockery of the process, destroying public trust and confidence in our democracy," Macnab continued. "Until the Legislature can restore that trust, Floridians must continue to look to the courts to hold lawmakers accountable." "The FairDistricts amendments -- voted into our state Constitution by an overwhelming majority in 2010 -- have changed redistricting in Florida by outlawing political gerrymandering once and for all," added Peter Butzin, Chair of Common Cause Florida. "The Legislature has a duty to abide by the Constitution, which they swore to uphold and enforce. We believe they have once again fallen fall short of their sworn duty, and we will continue to urge Judge Lewis to adopt a constitutionally compliant map for the 2014 elections," Butzin concluded.