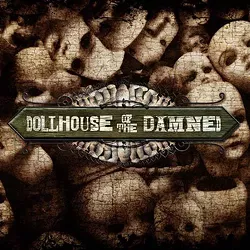 Image via
Universal Orlando
After teasing us for weeks with news of mazes and scare zones based on already existing content, today Halloween Horror Nights finally announced this year's original offerings, loosely based on cannibalistic fantasies and our deepest, darkest fears.
Dollhouse  of the Damned takes fright-seekers into an old-timey morgue that has been abandoned. A young girl has set up her dolls in the space, using the morgue as a playhouse. We can only hope they take advantage of the doll's creepy glass eyes; imagine walking into a completely dark room and seeing nothing but that glimmer. "The weird thing about dolls is that even if they're smiling, they're soulless. They always look sinister in the dark, even the cutest ones," said Assistant Show Director Charles Gray in an interview on the Universal Orlando blog.
Image via Universal Orlando
In Giggles and Gore, Halloween Horror Nights tackles one of the more ridiculous fears: clowns. The maze asks the question, "Where do evil clowns come from?" The answer? The clown factory where "faces are peeled off and voice boxes are torn out. Victims are dropped into a wood chipper, and the gunk that comes out is shoved into other people to create these massive, nasty stuffed clowns."
Image via Universal Orlando
Roanoke Cannibal Colony takes visitors on a trip to Roanoke back in 1587, where a group of settlers are waiting for a supply ship to come in ... for three years. By the time of the ship's arrival, the only people left in the camp were cannibals, who believe they are possessed by the spirit of Wendigo, which is "a mythical Native American creature that curses all those who ingest human flesh ... [The settlers] think they're being possessed by the Wendigo spirit. They start eating their own mouths. They've chewed away their lips. They've just completely lost it."
Over in the scare zones, guests can expect to be terrified by MASKerade: Unstitched, with scareactors whose faces are literally falling off and are held together with stitches and wax, and Bayou of Blood, featuring a voodoo priestess making live sacrifices nightly.
We hope we can avoid being sacrificed when the horror kicks off on Friday, Sept. 19.