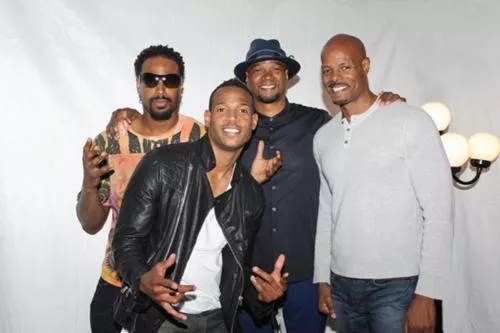 Courtesy of MLA
In 1990, the sketch comedy show In Living Color established the Wayans family as a comedic force to be reckoned with. Brothers Keenen Ivory Wayans and Damon Wayans created, wrote and starred in the show, along with their younger siblings Kim, Marlon and Shawn. Now, 24 years later, the brothers from that family are doing their first stand-up tour together, and we had a chance to talk with Marlon and Damon.
Despite being known mainly for movies and sketch comedy, both brothers acknowledge the importance of stand-up in developing oneself as a performer.  Damon (@DamonkWayans), 53, had retired from stand-up previously. "I never want to get to the point where I hate it," he says, "because I love it. I love the challenge. Each time you start back, you're starting new. Well, I'm starting new. I never go back to the same old material, it's more like 'OK, where am I at right now in life?'" Damon's perspective is now that of a 53-year-old veteran, rather than a hungry upstart. He has been very open in his recent material about a recent diagnosis of Type 2 diabetes and spend his time when not performing as the CEO of Akabe5, an app development company named after the first initials of each of his grandchildren's names.
Younger brother Marlon (@MarlonWayans), 42, also keeps busy, but made time to take off from his TBS comedy competition show, Funniest Wins, to put in some time on stage in preparation, though his background in stand-up was a little different. "I started doing stand-up at 19 and I stopped at 19-and-a-half.
I wanted to be a writer, I wanted to be a producer, I wanted to be a star and I didn't want to do stand-up. It just wasn't my passion. And then I was going out for the role of [Richard] Pryor
and that's when I realized that doing comedy, stand-up comedy, was essential for my growth and development as a comedic actor, so I fell in love with it.
It makes me a better writer, actor and producer. It really does. Stand-up is an essential component of being a great comedic talent."
Despite their differing backgrounds in stand-up, both brothers feel the tour has been a success so far. Damon says, "The audiences are really happy. We haven't had any fist fights yet.
The hardest part has been the flying. I haven't been used to this in a while." Regarding that, his brother Marlon says, "The older you get, the more you complain. He's complaining, 'Oh, I gotta fly. I gotta work. I gotta count all this money. Gotta hear the audience laugh.' You can't complain about that."
After the sets by the four brothers, they have done a short Q&A session with the audience. Damon says that the experience has been extremely positive. "Basically it's just expressions of love.
People tell us that they've really appreciated what we've done over the years," says Damon. Marlon claims that there have been a few jokesters in the crowd. "Someone always asks, 'Hey, I got a question!
Can we get a picture?'"
You can see all four Wayans brothers for yourself 8 p.m. Saturday, Aug. 16, when they perform at Hard Rock Live. Tickets cost $76.30-$86.55.