Image via Wikipedia
Everyone's heard of Colony Collapse Disorder by now - it's the umbrella term for the massive European honey bee die-off we've been experiencing in North America over the last decade. According to a
USDA report
we've been losing about 33 percent of domestic bee colonies since 2006. It seems the culprit is most likely increased pesticide use, like neonicatinoids (the most widely used pesticide in the world), but the cause of colony-collapse disorder is still up for debate – to some people. What most experts can agree on however, is that bees are really stressed out. Overworked, some are taxied around from orchard to orchard on flatbed trucks, under-nourished and exposed to a variety of environmental factors (like pesticides, herbicides and petroleum-based fertilizers) our honey bees need a break. Even though it's largely illegal in most municipalities like our own, (unless it's on property that is zoned for agricultural use, which you don't normally see in a typical subdivision - which is zoned as residential) backyard beekeeping is big business in Central Florida and according to OBBA President Jason Deeringer, the number of beekeepers in the area has tripled in the past three years, apparently despite the municipal zoning restrictions from city hall. The Orange Blossom Beekeepers Association is holding its annual
National Honey Bee Awareness Day
on Saturday Aug. 23 from 10 a.m.-5 p.m. at the Orange County Extension Offices at 6021 S. Conway Road. This family-friendly festival will allow local beekeepers and members of the general public can share their love of bees and honey and everything in
bee
-tween and to talk about how we can help our little pollinator pals out. In addition to the educational programming and local apiary booths, non-honey vendors include food trucks, a smoothie bar, barbecue grill, natural beauty products, jams, jellies and pollinator plants sold by master gardeners.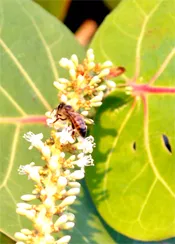 Image via Florida Keys Honey and Bees
Image via Florida Keys Honey and Bees
This event is a great way for hobbyists and career beekeepers to share their knowledge but also a great way to introduce the general public to a wide variety of special, local honeys that are not available on the open market, like Doug McGinnis of
Tropical Blossom Honey Co.
and his unique "sea grape honey." Susanne Cooper and Beth Fox, who were recently featured on National Geographic's
The Savage Line
, will be in attendance handing out food made with honey substitutes rather than sugar and sharing their recipes with attendees. So let's recap - rare and exotic honeys, workshops, visiting star apiarists, food trucks, smoothies and plants. This is the perfect event for all of you tree hugging, honey-dipping, nature lovers out there to come and learn about some of the work that is being done in our region to preserve and strengthen local honey bee populations. Check out this beautiful bee video below to start the bee-lovin' early:
Dance of the Honey Bee from AbelCine on Vimeo.