photo via Miami New Times blog
Correction:
The original version of this blog incorrectly indicated that Thomas Ward still owns the Treehouse Truck. He is no longer the owner, and the story has been corrected to reflect that fact. We regret the error.
We told you back in November of 2013 that it was coming; now the day is finally at hand: Barring any last-minute inspection hang-ups, Pig Floyd's Urban Barbakoa on Mills Avenue should open by Aug. 28 or 29, according to owner Thomas Ward. Ward is the former owner of the wildly successful Treehouse Truck, and we bet his take on barbecue will be just as popular. Ward sold Treehouse Truck two years ago to Vincent and Sarah Olivieri, who continue to operate the business, which has been named one of the city's best food trucks by Orlando Magazine earlier this year.
A-Aki Sushi & Steakhouse has opened on Sand Lake Road near the Florida Mall. Those who live or work near Florida Mall, take note: They are already taking online orders.
Smashburger, yet another better-burger joint, will open on East Colonial Drive across from Fashion Square Mall. We're looking forward to biting into a truffle-mushroom-Swiss burger.
Look for Two Chefs Seafood Bar to open in the former Uptown Grounds space on North Magnolia Avenue (north of the giant 7-Eleven on Colonial and sort of near Cafe Trastevere, if that helps place it for you). Chef Bernard Carmouche comes out of the busy, high-end kitchens of Emeril's and Tchoup Chop (seen below at the far right with fellow Emeril alum Greg Richie – who now helms CityFish – peeking from the back, and Mr. Lagasse himself second from left).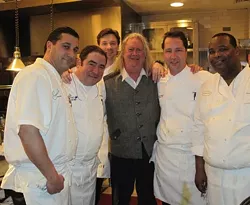 photo via Miami New Times blog Short Order
Two new Duffy's Sports Grills will open this fall – one at Mall at Millenia in September and one in Colonial Town Park in Lake Mary sometime in October, becoming the 25th and 26th outposts of the Florida chainlet.
Another Indian restaurant, American Gymkhana, is taking over the RAGA space on Sand Lake Road. Owner Rajesh Bhardwaj has restaurants in Dubai and New York.
Mynt, also an Indian restaurant, will move into the old Fresh Café space in Hannibal Square. No word yet on where Fresh will relocate, but they're still offering full-service catering "during the transition."
After suffering a heart attack, chef Henry Brestowski will close Chef Henry's restaurant in Longwood on Aug. 28. We'll miss the chicken paprikash, of which an earlier OW reviewer waxed poetic: "If you have any Slavic blood deep in your heritage, this food will nourish your psyche like mothers milk. The tang of sour cream and the mellow taste of paprika will stir some genetic memory of evenings in Prague or Lubin
"
Horsepower Bar & Grill has run its course at the Chase Plaza, though the owners may relocate it elsewhere. Stay tuned to their Facebook page for new developments.
Christo's Café has reopened after undergoing some interior renovations. Despite a fresh coat of paint and a newly positioned kitchen and bar, the menu remains unchanged. Thank god; we didn't know what we'd do without our favorite post-big-night-out dish, Christo's Greek omelet.