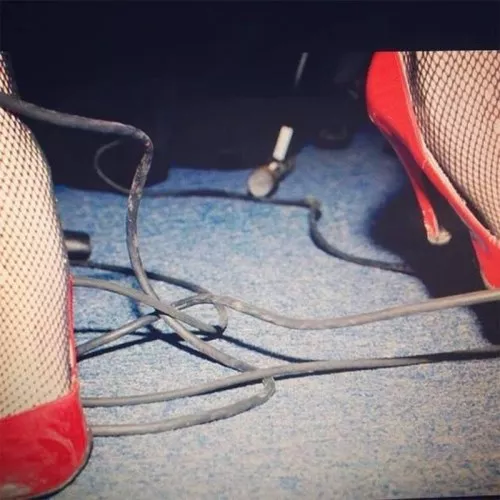 Le Butcherette's 'Cry Is For the Flies'
Le Butcherette's 'Cry Is For the Flies'
What local artists are listening to.
Ray Brazen
has been making lo-fi music for more than 30 years, since before they even had a term to identify it, getting his start while still a high-schooler in New Jersey, where he says he lived in R. Stevie Moore's shadow. He gained early attention by submitting his songs to WFMU, where they'd get airplay on DJ William Berger's "Lo Fidelity All Stars" portion of his program. In 2004, Brazen relocated to Orlando where local scene makers Matt Kamm (Me Chinese, Telethon) and Dave Plotkin (show promoter, poster designer, creative curator) convinced him Orlando's music community was worth sticking around for. You're likely to see him performing at the occasional Austin's Coffee Open Mic or as a street musician on Park Avenue. A collection of his home recordings from the '80s that he created under the pseudonym Ray Zinnbrann is set for release on
Illuminated Paths
this fall, and his most recent single, "The Revenge of Davey Dawson," is
streaming now on Soundcloud
. We were excited for Brazen to participate in this week's Rotation, highlighting the most recent release from Le Butcherettes,
Cry Is for the Flies
. Brazen says: "As 'New Music Women' seems to be my most popular song, it's fitting that I take an active interest in female-fronted rock & roll. My latest discovery in that realm is already my new No. 1 favorite. Le Butcherettes are a band from Guadalajara, Mexico, and I haven't stopped playing their great new record
Cry Is for the Flies
since it came out this spring – in my view, the best album of 2014 so far. "Their leader, Teresa Suarez, aka Teri Gender Bender, is a truly intense performer cut from the same cloth as female punk legends like Siouxsie (who her voice often resembles) and Poly Styrene. But where modern punk is generally either too commercial or unoriginal, Le Butcherettes have their own distinct sound. Keyboards are the lead instrument on several songs, vividly reminding me of '70s synth-punks the Screamers. Suarez handles keys and guitar with equal fire and skill on quirky yet very heavy songs which show as much Sparks influence as that of the Sex Pistols, merging into something with a fresh energy and a very personal identity. "Since Le Butcherettes were discovered (and joined for awhile) by Omar Rodriguez-Lopez of Mars Volta, their star has been rising. They've already opened for Iggy and the Stooges, and this fall they'll support the Melvins
, hitting Central Florida in early November
. [Correction: Le Butcherettes are only touring with Melvins in October; they will not be opening for Melvins in November.] They'll be in fitting company, as they really have potential to become the next great loud band."
Ray Brazen performs 11 p.m. Monday, Aug. 25 at the Peacock Room with Idi Bidi Midi Comidi. (RSVP)