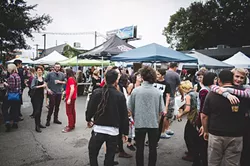 Photos:
All the weird that was Grandma Party 2013
Our favorite annual open-air holiday party/shop-portunity now has a 2014 date: Granny happens on
Dec. 13
of this year. (That's just 15 Saturdays away, so start saving pennies.)
Grandma Party Bazaar
organizers and hostesses with the mostesses Ashley Belanger and Christina Rapson will start officially accepting applications from vendors this weekend, so if you are a crafty wizard,
jumponit
. They will post the call for vendors on Granny's time, as usual, but that announcement will definitely happen
here
. Guidelines:
*All vendors MUST be selling handcrafted items. Non-handmade items are not welcome at the bazaar. The only exception is vintage clothing, and even that will only be accepted in limited quantities
*Your old stuff (old clothes, books, movies, etc ) is NOT allowed UNLESS it has been artistically altered.
*Interactive booths are highly encouraged! At past bazaars this has included the photo booth, songs while you wait, YouTube video upload booth, tarot, henna, massage . in the future it could include awesome things like a kissing booth, art projects for kids, face painting, collaborative art, and who knows what else.
We've written about the phenomenon that is Grandma Party many times before (
most comprehensively here
) but if you need a quick description, all we can say is,
this is not a craft show
. Yes, there are handicrafts for sale (and it's an awesome place to stock up on quirky, personality-filled holiday gifts for your nearest dearests), but Grandma Party as a whole is more like a bunch of different parties smushed into one great day. There's the morning crowd in the (hopefully) cool fresh air – coffee-drinkers, puppy-walkers, bargain-hunters fingering the jewelry and piggy banks and kites; when midday starts to heat up, so do the bands and the outfits and the frisky dogs and kids; by evening, kids have been whisked home, beers have been drunk, vendors are starting to cut deals and tomorrow's stories are about to be made. Grandma Party offers not just stuff for sale but also
experiences
– the photo booth, the Alchemy haircut tent, backrubs, henna painting, tarot cards reading – and, as they put it, "Grandma Party is you and me and all of us making it happen." So, vendors, shoppers, humans: Go make it happen.
All the weird that was Grandma Party 2013