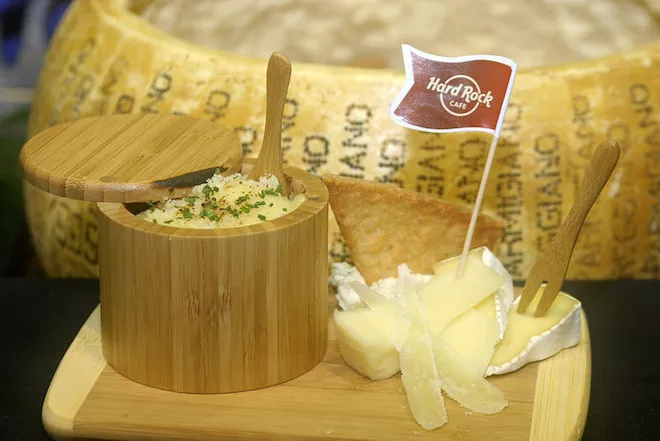 30 cheesy shots from the O-Town MacDown
30 cheesy shots from the O-Town MacDown
Look, the MacDown on Saturday, Aug. 23 was a blast and we literally drooled over quite a few mac and cheese concoctions (truffle honey mac and cheese from
Toasted
, we're looking at you). But none of 'em were quite as delicious as the Brie and Fontina mac and cheese from Hard Rock Cafe Orlando. We wanted to sneak by their booth and snatch extra samples multiple, multiple times. Sadly we forgot our collection of fake mustaches and hats.
Orlando, Fla., August 28, 2014 – The award for the best Mac-n-Cheese goes to Hard Rock Cafe Orlando! At the inaugural O-Town MacDown benefiting Give Kids The World, Hard Rock Cafe Orlando was deemed Orlando's Mac-n-Cheese Champion, winning judges' pick for "Best of Restaurant" offering and the fan favorite "People's Choice" award for its Brie and Fontina Mac & Cheese. Hard Rock Cafe Orlando's decadent dish beat out entries from the 38 participating professional chefs, restaurants, home cooks and non-profit organizations. More than 1,700 were in attendance as an esteemed panel of judges with a variety of expertise, ranging from local media to culinary professionals, chose their favorite recipe.
Hard Rock Cafe Orlando is also giving fans the opportunity to sample the award-winning offering for a limited time! Beginning on Monday, September 1, 2014, guests will be able to enjoy O-Town Macaroni and Cheese developed exclusively for the Orlando cafe – featuring imported orecchiette pasta finished with a rich brie and fontina sauce, topped with creamy fontina, aged romano and fresh chives ($8.95).
For every order sold, Hard Rock will make a donation to Give Kids The World, a non-profit organization that provides weeklong cost-free vacations to families with children battling life-threatening illnesses.