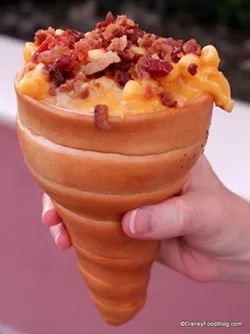 Image via Disney Food Blog
Image via Disney Food Blog
Word comes to us that Disney's Hollywood Studios has added a little sumpthin'-sumpthin' called bread cones to their menu. Is this comfort food? Or job security for cardiologists? Well, like most food trends (bacon, cupcakes, doughnuts, pork belly, Cronuts, bacon, bacon, BACON) – both, obviously.
If you're the danger-loving sort, throw caution to the wind and scoff at this week's National Institute of Health study showing carbs are basically worse for you than a crack-and-Drano cocktail (OK, not really but almost) by downing the Macaroni and Cheese bread cone. The behemoth spiral of bread encloses a heap of gooey mac and cheese – though this Disney blogger added a "bacon pile" to hers. #hero
If you're more of a veggie-lover, well
uhm
heh. No, actually, there are jalapeños and beans to be found in the Fiesta Chili-Cheese bread cone, and those are actual vegetable matter that grows out of the ground. This one involves: cornbread, chili, beans, corn, sliced jalapeños and a ton-o-cheese.
Both are served with a side bag of chips, because WHY NOT.
UPDATE: Sigh. The Mouse giveth, and the Mouse taketh away. Despite the fact that Wendy, the intrepid cone-nibbling blogger who first brought bread cones to our attention, posted about them just just last week, and despite the fact that these bread cones have been served in other spots around the Disney lands for some time, several of our bread-cone-curious readers let us know that over Labor Day weekend they found, to their dismay, that the cheesy delights have been discontinued. Disney food sellers told parkgoers that it's because the bread cones were not selling well. Seriously?? Based on reactions to this blog post, we can hardly believe that's true. Maybe bacon-topped mac-and-cheese cones will be brought back if enough people ask for them. (Consider that a dare!)