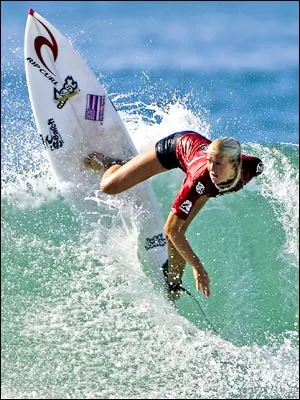 Image via Xtreme Sport 4U
Image via Xtreme Sport 4U
This Saturday, you have the chance to meet inspirational surfer Bethany Hamilton. Remember her? The 13-year-old badass surfer who had her left arm bitten off by a 14-foot tiger shark and then went back to surfing? She will sign autographs and meet with fans at Ron Jon Surf Shop in Cocoa Beach, currently the world's largest surf shop at 52,000 square feet.
A surf shop that covers more than an acre is astonishing, yes, but that's nothing compared to Hamilton's miraculous comeback story. She didn't let a shark attack end her career as a rising professional surf star. Shortly after her attack, with determination and faith, she returned to the water and won her first national title. That's an amazing feat for a surfer of any age.
Hamilton has since realized her dream of surfing professionally, and told her story in an autobiography which was turned into the 2011 film Soul Surfer, starring AnnaSophia Robb (Violet Beauregarde in Charlie and the Chocolate Factory).
Free copies of Hamilton's documentary Heart of a Soul Surfer, a movie that digs deep into the heart and soul of a surfer destined for success, will be given away. To score one, all you have to do is support her Friends of Bethany Foundation by purchasing the signature series sandal by Cobian.
Grab your wetsuit (optional of course) and be sure to get there early – only the first 100 people are guaranteed a chance to meet Hamilton.
When: Noon-1 p.m. Saturday, Sept. 6
Where: Ron Jon Surf Shop, 2151 N. Atlantic Ave., Cocoa Beach