Ron Raike at the C&L taps (photo by Gary Bogdon)
Ron Raike at the C&L taps (photo by Gary Bogdon)
In somewhat surprising news, it was announced today that brewmaster Ron Raike will leave Winter Park's Cask and Larder to pursue "an independent craft beer endeavor." Renowned St. Augustine brewers Scott and Bill Morton will oversee the Winter Park restaurant's impressive in-house brewing operation during the transition. The Morton brothers are longtime friends of James and Julie Petrakis, chef-owners of the two-year-old New South haute tavern C&L as well as pioneering local gastropub the Ravenous Pig.
Raike, who began his brewing career while pursuing a master's degree in computer engineering at the University of Central Florida, was brewmaster for Shipyard Brewing Company for 10 years and served as the founding brewer at Winter Park's short-lived but well-loved Shipyard Emporium. (See our 2012 profile of Raike here.) Now one of Florida's only certified cicerones, Raike took a research trip to Belgium before staring at Cask & Larder, and the influence is clear in the delicious Belgian-style ales and sours he's created for C&L.
"It's been such a pleasure having Ron at Cask & Larder since we opened two years ago," said Julie Petrakis. "We are forever thankful for the hard work and passion he brought to the Brewery day in and day out. We wish him the best of luck and look forward to sampling his new beers."
The Morton brothers, who will take over while the Petrakises search for a new permanent brewmaster, have impressive chops as well. "Scott and Bill are living legends in Florida and have contributed as much as anyone to the state's impressive craft beer portfolio," said James Petrakis. "Having known them for most of my life, it's surreal to have them maintaining the Brewery at Cask & Larder. I couldn't be more excited about the direction we are headed."
We'll keep you posted as we hear more.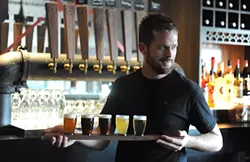 A beer flight makes its way to a thirsty customer (photo
A beer flight makes its way to a thirsty customer (photo via C&L)