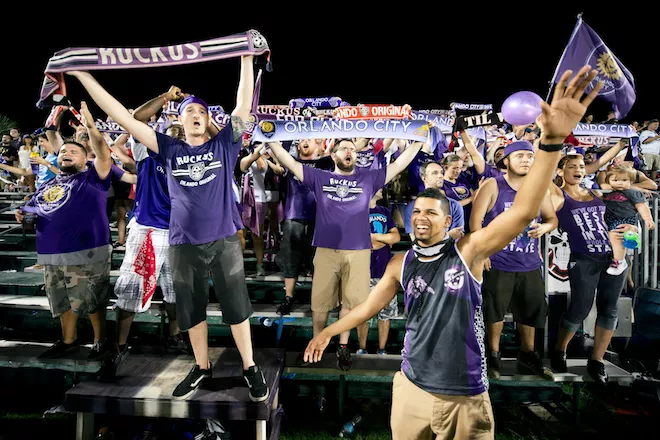 21 thrilling shots of Orlando City Soccer's victory over the Dayton Dutch Lions
21 thrilling shots of Orlando City Soccer's victory over the Dayton Dutch Lions
Good news for Orlando City Soccer fans, members of the Ruckus and the Iron Lion Firm or anyone else who enjoys a bit of justice. All charges have been dropped against the four Orlando City Soccer fans who were arrested for disorderly intoxication and battery of a law enforcement officer at a Tampa Bay Rowdies game on Sunday, July 6.
Pinellas County court records show that charges filed against Jared Ambrose ,24, and Jimmy Galvez ,28, who were both arrested for disorderly intoxication misdemeanor, have been closed.
Charles Tolman ,30, and Stephen Marva, who were arrested on a felony charge for hitting a police officer with a fan flag, have both had their cases closed as well.
With the charges being lifted, Tolman told Local 6, he now feels vindicated.
"I was just beyond happy, because one that's a weight being lifted off my shoulders," Tolman said.
According to the Orlando Sentinel Lyle Mazin, the attorny who represented Marva and Tolman, said a video of the incident clearly vindicated the Orlando City fans.
"I think ultimately [the charges] were dropped because the office of the state attorney came to their senses and understood this was not a situation of Orlando City fans creating a problem in the Tampa arena, but rather Orlando City fans being attacked by the Tampa fans", said Mazin.
This just proves that sometimes Lady Justice does win. Hopefully since the charges have been dropped Orlando City will welcome these four men back with open arms. Roar on Lion fans, roar on.