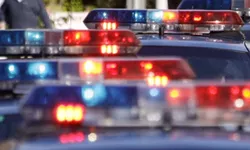 Here in the contentious wake of the police-state-brought-to-life nightmare of Ferguson, Missouri, it can be hard to know whether you should trust the fuzz or be afraid of them. Even without the tanks and the gas and the heavy artillery – which, guess what, we're about to get some of – police brutality has hit fairly close to home as of late, especially considering the recent circumstances (still under FDLE investigation) outside of downtown's Vixen nightclub. Well, you're friendly officer friendlies are planning to open up their loving arms to your questioning at a sort of town hall meeting at Jones High School tomorrow, an event they just announced at 4:45 p.m. on Friday afternoon. That's cool. At any rate, things are kind of confusing with OPD right now. The rash of burglaries and arsons in Thornton Park, Eola Heights and College Park likely has them scratching their public-relations head, as does, of course, a history of some screwed up responses to criminal activity leading up to Vixen. Perhaps that explains why, as of this week, the police department is no longer releasing its daily onslaught of "event sheets" to media outlets. We've contacted both OPD and the city and the answers received were less than satisfactory – basically, it's too much work. Too bad for you, TV news ambulance chasers! Also, too bad for transparency. Anyway, here's the press release about tomorrow's event. You should go and ask them what you're not seeing.
Orlando Police Department Community Forum

Place: Jones High School Auditorium (801 South Rio Grande Avenue)

Date:   Saturday, September 13, 2014

Time: 4:00 p.m. – 6:00 p.m.

Purpose: Community Relations

In light of recent national and local events involving law enforcement, the Orlando Police Department felt it necessary to address public concerns, demonstrate the willingness to hear City residents' needs and share how the department strives to maintain a positive approach as they enforce laws in the community.

The purpose of the forum is to hear from City residents and to provide collaborative responses from Chief Mina, government officials, faith-based organizations, and community leaders as they work in unison to address the concerns and needs of the public. Various topics will be discussed (rights and responsibilities when encountered by law enforcement) and citizens will be afforded the opportunity to ask questions.

The panelists include Chief John Mina, Commissioner Regina Hill (District 5), Kran Riley (NAACP-Orlando Branch), Bishop Kelvin Cobaris, Pastors Marvin A. Jackson, David Jacques, and representative from the Central Florida Urban League. The forum will also include voter's registration, NAACP membership sign-up and the Orlando Police Department Recruiters will be in attendance.