Friday is upon us, but the official start of the weekend is just a little out of our reach. Here are some links that should help you bridge the gap until you have have your first happy hour drink:
1. Seriously, the Duck Tales theme song is one of the best in history. Yeah, yeah, it gets caught in your head, but not in the annoying way. If you thought there was no way improve this awesome theme song, you were wrong. The folks over at Oh My Disney remade the opening credits ... with real live ducks.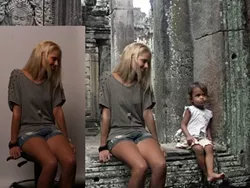 Image via Zilla van den Born
2. Amsterdam artist, Zilla van den Born, took a six-week vacation to East Asia ... without leaving the country. The artist filled her Facebook with photos of her trip, depicting visits to temples, tropical beaches and interactions with "locals." The catch? All of these photos were digitally manipulated. van den Born took on this project in an attempt to drive home the point that people's lives are not as perfect as they appear to be on social media.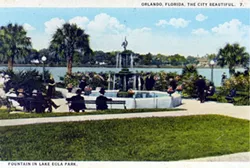 30 vintage postcards of old Orlando
30 vintage postcards of old Orlando
3. If you couldn't already tell by all of our recent #ThrowbackThursday galleries, we really, really love anything old Orlando. This collection of vintage Orlando postcards captures a time when the Lake Eola Fountain wasn't in the middle of the lake.
4. Star Wars fans have been stalking J.J. Abrams pretty hardcore since filming on the seventh film has begun. During Tuesday's Apple madness, Abrams tweeted the above pic. No biggie, he's excited about the new iWatch. The note's not the thing here, though. Take a look in the background. Looks kinda like the Death Star lights, doesn't it?
5. We can't even imagine how long this took.