Turns out "Beauty" is in the eye of the bescalpeled. (
Jeff Hong
)
Lilo and her mom huddled on the street next to a shopping cart full of recyclables
a meth-faced Alice scoring some "Drink Me" in an alley
Mulan struggling to breathe in China's murky, polluted air. These are just a few of the bummer scenarios New York animation artist Jeff Hong has imagined beloved Disney characters into.
"In case you're wondering, I'm actually a big fan of Disney animation," Hong says, and we buy it – you'd have to be a true fan of Disney (as well as a dyed-in-the-wool New Yorker) to be able to forecast that, removed from the jungle, Tarzan would be a subway-riding tie-wearer.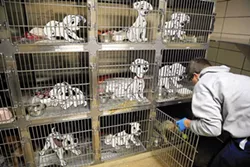 A hundred and one is an awful lot for any shelter to handle. (Jeff Hong)
Check out the full (and growing) series at Unhappily Ever After.
American Horror Story! (Jeff Hong)