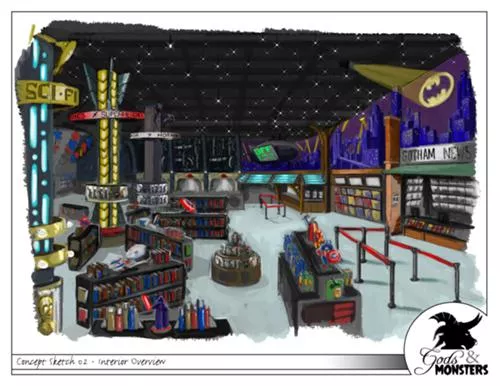 Image via Gods & Monsters
Image via Gods & Monsters
Artegon is adding geek heaven to its store roster: Gods & Monsters. The new comic shop recently signed a lease on space in the former Festival Bay Mall, promising more than 18,000 square feet of comics, gaming and collectibles. This massive space, the owners claim, makes it the second-largest store of its kind in the nation.
Some of the features of the facility are (directly from the press release):
The Transmetropolitan Gallery – A pop-culture, fine art gallery featuring an ever-changing array of top quality comic and media themed art – including sculpture, paintings, custom toys and original comic art – from local, national and international artists.

The Offworld L.O.U.N.G.E. – A sci-fi gaming lounge, heavily inspired by the movie Blade Runner, where guests can enjoy flavored iced coffees, artisan sodas and themed snacks while facing off in a round of Cards Against Humanity or wrecking the noobs at Super Smash Bros as they chow down on udon noodle cups at the White Dragon Noodle Bar.

An interactive app that will provide access to hidden content throughout the store and beyond (to be released during the second phase).

Special events such as creator signings, movie premieres and conventions where fans can meet their favorite writers, artists and stars.
Co-founders Todd Fisher and Anna Young are no strangers to the game, having operated such Orlando gems as A Comic Shop and Acme Superstore, among others.
Artegon is slated to open Thursday, Nov. 20. There is no word on an opening date for Gods & Monsters yet, but we'll let you know as soon as we hear.