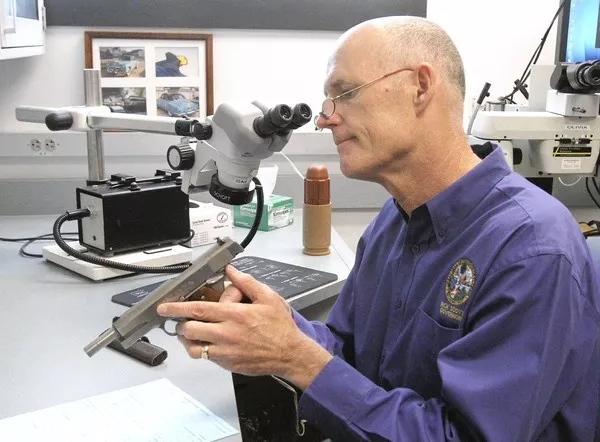 via Broward Palm Beach New Times
via Broward Palm Beach New Times
Anybody wort their alcohol sweats in politics is familiar with art of tracking. Basically, you send folks to carry a flip-cam or an iPhone to the outside of a public political event and try to corner its principals (and principles!) by asking questions. It's nobody's proudest moment (trust us; we were in the fray at the GOP Convention in Tampa a few years ago, and Grover Norquist was not as dreamy as you might think). Regardless, it's become an accepted means of "gotcha" and basically part of the parlance of political intimidation. Even knowing all of that, however, it's hard to understand why the Republican Party of Florida (via or in support of Gov. Rick Scott) felt the need to cross the lines and legalities of decency to intimidate supporters at a Crist fundraiser held at Democratic Party Chairwoman Allison Tant's house on Tuesday night. In addition to looking ridiculous – there were screams from lugheads in prison uniforms, apparently, when Tant has a mentally disabled son? Are you kidding? – the pictures being taken were of license plates on cars as much as they were of attendees.
"It was some sort of silly attempt to intimidate," Tant told the Associated Press. "Taking pictures of license plates - that's ridiculous. If they want to know who was at my party, they can look at the financial report and they can look at my Facebook page."
Regardless, Democrats are biting back on this "new low." A press release today, timed perfectly with Rick Scott's apparent campaign visit to Orlando (Crist is here, too. He'll be on WMFE 90.7 FM, we hear, because we were there recording yesterday) withholds little animus in dealing with the situation. In its typical fashion, the Democratic Party is asking reporters to ask questions that will likely remain unanswered:
As Rick Scott campaigns in Orlando today, questions remain about the growing controversy involving his campaign's Nixonian attempts at intimidating Charlie Crist donors and their practice of photographing the license plates of Democratic event attendees. As 

the AP reported yesterday

, Republican Party of Florida staffers filmed guests as they got out of their cars, took pictures of guests' license plates, and scared children by showing up at a private home in prisoner uniforms while shouting.

This is a new low even for the Scott campaign, and the governor must answer for the actions of his staff. 

Here are five questions Floridians deserve answers to about Rick Scott's Nixonian campaign tactics:

1.) Why are your staff members photographing and filming private citizens attending Charlie Crist events?

2.) Who told your staff to take pictures of private citizens attending a campaign event at a private home?

3.) Why has your campaign made a practice of photographing the license plates of Democratic event attendees?

4.) Are state resources being used to run license plates of Florida Democrats?

5.) Is it true that your staff called at least one of the attendees the day after the event to inform them that they'd been filmed entering a Crist fundraiser?
Naturally, the Scott/RPOF camp is claiming that this is the same level as Crist, because the
Rothstein controversy
and, uh, Jim Greer, both of whom did more damage to the RPOF than to Crist, oddly. Also, Crist's folks took a pic outside a TV broadcast or something. What really sets this apart, however, is that it was a private residence, a private party and, though AP was there to report (which is hilarious because it backfired), of no business to costumed assholes intending to intimidate. New low, indeed.
[youtube 7fcg6KeQjNI]