This Little Underground is Orlando Weekly's music column providing perspective, live reviews and news on the city's music scene. Read the latest column here.
Broncho at Will's Pub (photo by Ashley Belanger)
Broncho at Will's Pub (photo by Ashley Belanger) There are many good bands that go
overlooked
. It's always been that way and it's always gonna be, and it's a frustration that all passionate music heads face. But even after all these years, I still have a problem with it. That's why the current case of
Broncho
(Sept. 25, Will's Pub) is one of things that has me
pulping my head against the wall
. This Tulsa band remains
wildly underrated
almost everywhere. Here, however, I've been talking them up till I'm
blue in the face
. Well, OK then, I'll go a shade deeper and tell you, again, that you missed out on a really good show by a great band that has the stuff to pop at any time. But, despite scant attendance at their Orlando shows, we've been fortunate enough to have them here
three times
so far (once as an opener to
Two Gallants
). So can we agree that – should be blessed with a fourth occasion – we'll all show up and
go total ape
? Excellent. I knew I was right about you guys. Tourmates and fellow Tulsa band
Low Litas
, despite a tentative performance, showed some good instincts with a
punk- shoegaze-dream hybrid sound
. I'm sure they're better when they give more of a shit.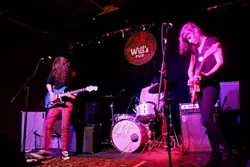 Low Litas at Will's Pub (photo by Ashley Belanger)
Low Litas at Will's Pub (photo by Ashley Belanger)
Read more This Little Underground: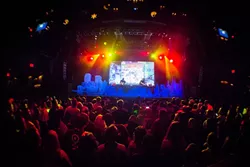 DJ Shadow & Cut Chemist play Afrika Bambaataa
DJ Shadow & Cut Chemist play Afrika Bambaataa