photo via Ravenous Pig
James and Julie Petrakis' award-winning Orange Avenue restaurant, the Ravenous Pig, was robbed at gunpoint Sunday morning.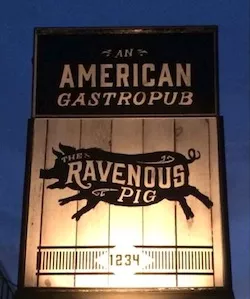 According to the Winter Park PD police report obtained by Orlando Weekly, an armed man dressed in black shirt, black hat and dark jeans gained entry through the back door of the restaurant and stuck up the manager, who was the last person left in the building after Saturday night's close of business. It's unclear whether the suspect came in through a door left unlocked or whether he had keys (there's a reference to a set of lost keys in the police report), but however he got in, he stuck a handgun in the manager's face and told him to "turn around and give him the money," then held the gun to the manager's head as they walked from the kitchen to the office. The suspect came in just two or three minutes after the last employee besides the manager left the restaurant, which is pretty scary.
The WPPD report does not divulge how much money was stolen (but does helpfully specify "color: green," so apparently this guy only takes cash when bringing home the bacon). Police were able to collect two latent prints from items the suspect touched during the robbery, so here's hoping this guy's easier to catch than a greased pig.
OK, enough terrible puns; this must have been horribly scary for the manager, and no matter how much they lost, it sucks for the restaurant too (one of our – and your – faves). Were you on North Orange Avenue around 1:30 in the morning? If you saw anything, please contact WPPD.