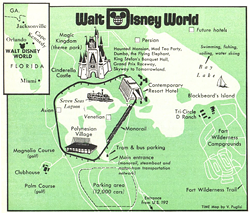 From the Oct. 18, 1971, issue of
From the Oct. 18, 1971, issue of TIME
Yesterday, on Walt Disney World's 43rd birthday, Time magazine shared an original map of Disney World that they published in their Oct. 18, 1971, issue. It's kind of mind-blowing to look at – in particular the parking area, which only held 12,000 cars. To put that into perspective, according to the 2012 Global Attractions Attendance Report, Disney World welcomed roughly 48,000 guests per day into the Magic Kingdom alone. That's not even taking into consideration the other Disney parks that have sprung up since they opened their gates in 1971.
Image via Theme Park Brochures
Image via Theme Park Brochures
Just eight years later, the theme park had grown pretty extensively, as you can see by the map above. More hotels and vacation villas were added, as was the now-abandoned River Country attraction. And the illustrations on the map? Hella adorable.
We're pretty sure that if Walt Disney were to take a gander at the present-day map of Disney, he'd be one proud papa. The resort now takes up roughly the same amount of space as the city of San Francisco, according to Today. The original park took up about 107 acres.
The kicker? Look at all those blank spaces; Disney's still got a whole lot of room to expand.