The City of Orlando is calling all local fashion designers, artists and fashionistas alike to contrive
new
fashionable looks from
old
materials that otherwise would be recycled of trashed for the
second annual Trash2Trends
fashion show. Each design will be featured at the Trash2Trends runway event that will be held on Saturday, Feb. 28, 2015.
Local celebrities will judge participants and choose winners from the following categories: top design, avant garde, best use of material, most wearable and audience choice. Last year's winners were featured in the local media.
Last year's winners
Image via Orlando Magazine
Not only is this an event to showcase creative fashion, but it is also a fundraiser for Keep Orlando Beautiful, which "sets out to empower individuals to take greater responsibility for enhancing their community environment through litter prevention, waste reduction/recycling, and beautification."
But the idea of trashion isn't a new phenomenon. It is happening all around, from Brooklyn, New York to Portland, Oregon. More and more people are finding ways to make use of the things that can be found around the house, like the local actress that made a dress out of Orlando Weekly issues.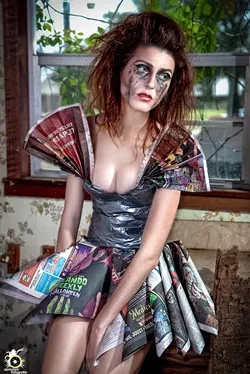 Image via Orlando Magazine
If the combination of art, fashion and saving the environment sparks your interest or know someone who would want to participate, here are the details:
According to the press release, design criteria is as follows:
Materials must be "trash" items headed to the landfill or recycling facility.

Binding techniques such as sewing, glue, tape and wire are allowed.

Materials can be written on, printed on, painted on, dyed, manipulated, etc.

Zippers, buttons, fasteners are permitted.

If your fashion includes accessories (bags, hats, belts, etc.) they must follow the guidelines as well.

Consider the "wearability" of your look when a model is wearing it and walking down a runway.

Your design may not be more than 4' in width.

Be wildly creative. Make wearable fashion from discarded items. Stretch your thinking about how fashion can be more sustainable.
The application submission for participation deadline is Friday, November 14. Designers that are selected for the showcase will be announced the following Friday.
For more information on how to submit an application click the link and visit the City of Orlando website.