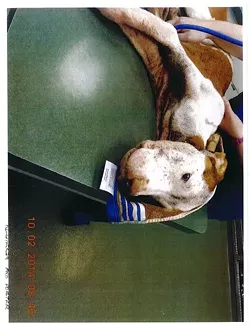 Photo of Zola via OCAS' Facebook page
This afternoon, Orange County Animal Services sent out a media advisory indicating that it had taken in a dog from Winter Park that was so severely emaciated and ill that the dog's former owner is being charged with felony animal abuse.
According to OCAS, they received a call about a dog reported to be in poor condition on Oct. 2. Animal Services arrived and found the emaciated dog, named Zola, was so weak that she was unable to stand. According to the intake report from OCAS, she was covered in fleas and lying on a floor soaked with urine and feces.
The dog's owner, Aaron Dennis, told animal services that the dog had been losing weight, but that he hadn't taken her to the vet to find out what was wrong. The report describes an apartment with "numerous items" thrown about and blood, urine and feces on the floor. Though the dog was unable to get up, officers indicate that she struggled to wag her tail.
Dennis willingly relinquished the dog to animal services, but he stated that he was surprised that he could get into trouble for the condition she was in. "It was just a dog, he stated," according to the report. He was arrested on third-degree felony cruelty to animal charges. the Orange County Sheriff's Office is handling the criminal case.
Zola is now in the custody of Animal Services and receiving care from a local veterinarian.
If you witness cruelty to animals, you can report it anonymously through Crimeline: (800) 423-TIPS or by calling 311.
More photos of Zola below, but they are somewhat upsetting. Don't scroll down if you do not wish to see the emaciated dog.
UPDATE 10/16: Good news to report about Zola! According to Orange County Animal Services, she is in the care of Conway Animal Hospital, and she is improving. She is being released to Furever Friendz animal rescue in Spring Hill, where she'll continue to heal and eventually find an adopter.
Here's a before and after shot of her, posted to OCAS' Facebook page today:
===
===
===
===
===
===
===
===
===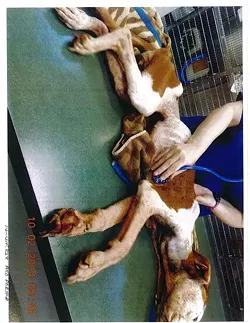 UPDATE: According to OCAS, Zola is still hanging in there, and she's continuing to receive supportive care. The shelter posted a photo of her on its Facebook page yesterday:
Photo of Zola via OCAS' Facebook page
Also, Orlando Police responded to yet another case of animal neglect in the area. Read more on that situation here.