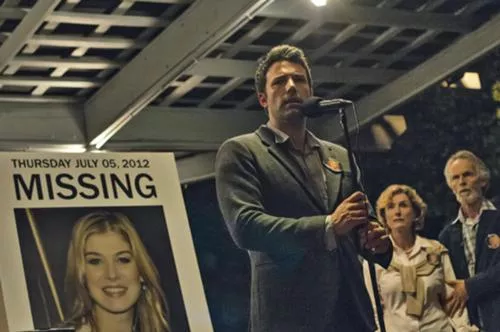 Image via Gone Girl
David Fincher's Gone Girl, based on Gillian Flynn's polarizing bestselling novel, is a marital horror show that's going to keep spouses up at night wondering what the person sleeping next to them keeps secret. The story itself is pure pulp – a twisting, lurid crime tale with elements similar to (the better of) Lifetime's original movies. But in the hands of an immaculate craftsman like Fincher, Gone Girl is a sleek work of art that deftly juggles black comedy and drama as it assaults the inner workings of a relationship. He picked the paperback out of the gutter and polished it off, leaving all of the story's vitriol and venom intact.
Martial secrets and their corrosiveness reverberate throughout the film beginning with its opening shot of Nick Dunne (Ben Affleck), tenderly stroking his wife's hair and contemplating "cracking her skull open" to reveal her mysteries. Amy Dunne (Rosamund Pike) looks up at him with a cryptic grin, one that takes on a much darker context when it's repeated later in the film.
What happens over the course of Gone Girl to drag Amy's look into the abyss is something not to be spoiled, so I'll step lightly over a plot synopsis. Viewers (who haven't read the book) will want to see the drama unfold through Fincher's eyes. The two-and-a-half hour film is littered with curveballs and narrative 180s that any discussion beyond the initial set-up would be criminal.
The basic gist is that on their 5th wedding anniversary, Nick arrives home to find his front door wide open and signs of a struggle in the living room. The titular girl, Amy, is (you guessed it) gone. Two detectives arrive at his house: Boney (Kim Dickens) and Gilpin (Patrick Fugit of Almost Famous, uh, fame). At first both are willing to give Nick the benefit of the doubt, but certain details fail to add up and the two cops grow very suspicious of this seemingly calm husband.
The narrative jumps back and forth between the investigation and flashbacks highlighted in Amy's diary. We see Nick and Amy first meet at a party. We see them go through their honeymoon stage, when romance and lust ooze from every look. Then we see them impacted by the recession and the cancer that struck Nick's mom, which forces them to move back to his hometown in Missouri.
Both narratives reveal how the rifts in the marriage were caused and how they escalated to intimidation, infidelity, and deceits that carve deep. Since Amy is a minor celebrity thanks to her parents' popular series of children's books, "Amazing Amy," the media latches on to the case and exploits it for all of its Nancy Grace glory. Dunne can't move a muscle without being scrutinized in "breaking reports" about his apathy and flirtatious impulses. But is his indifference genuine? Or manufactured for media sensationalism?
While it examines seriously wicked material, Gone Girl pulls more laughs than any of Fincher's movie since Fight Club. The black humor of the film consistently bites as it spews bile all over the sanctity of marriage. Fincher, who has a reputation for being a misanthrope, doesn't let anyone off the hook in his dark satire. There are no good guys or bad guys (or girls) here. There is, however, a lawyer named Tanner Bolt played by Tyler Perry, so that should let you know humor is always boiling under the surface of Gone Girl.
Stylistically, it's an icy film and presented very straightforward. Fincher's frequent cinematographer Jeff Cronenworth (The Social Network, Girl With the Dragon Tattoo) doesn't use any handhelds, preferring instead to lock in and let the actors do their thing without any added visual flair. This is a cold film – thematically and visually.
There's nothing particularly outstanding about Gone Girl, but everything is pulled off so perfectly that it should stand as one of Fincher's best. I personally think it's his greatest since 2007's Zodiac. The story is elevated by his meticulousness and slick style, helping it join the pantheon of modern American noir. The performances are exceptional across the board, with the highlight being Rosamund Pike, who delivers a revelatory performance that's sure to be remembered long after award season is gone.
Like the novel, Fincher's film is not likely going to polarize audiences who wanted the narrative to go in a different direction. Regardless of how frustrated you may be exiting the theater, there's no denying Fincher was in complete control. His graceful cynicism and mustard-colored palettes are the perfect channel for this comedic tale of moral decay. But I don't want to mean Gone Girl sound too pessimistic. It is a love story, after all.
Four out of five stars