The weekend's *almost* here and there's tons of stuff to
fill it with
: Zombietoberfests, Oktoberfests, non-festival related activities and more. But first? You gotta make it through Friday. These links should help: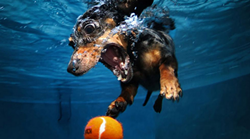 1. Photographer Seth Casteel has put together one of the cutest collections of puppy pics we've ever seen. To create the absolutely adorable photos in his book, Underwater Puppies, Casteel taught over 1,500 puppies from from animal rescues to swim, then photographed their antics in the water.  If, like us, you can't get enough of these wet dogs, the book is now available for pre-order or you can head on over to Casteel's website to peep some more pics. (Also, dog lovers, you should check out this gallery of adorable adoptable dogs at Orange County Animal Services.)
2. Sitting down to watch the original Star Wars trilogy is a huge investment of time.  The folks over at TL;DW have shortened that time from six-and-a-half hours to a mere three minutes. They hit most of the important parts, but they do spend a bit too much time on the trash-compactor scene.
15 cool old Florida citrus crate labels
15 cool old Florida citrus crate labels
3. We love old Floridiana bunches here at Orlando Weekly. This gallery takes a look back to the times when Central Florida was more than just theme park central; we were once home to a thriving citrus industry.
4. There's first class and then there's the suites class on Singapore Air. For a cool $18,000, you can fly in style, with double beds, private cabins, gourmet meals, glasses of Dom Perignon and more. Derek Low of NextShark saved up his airline miles so that he could experience a pampered flight. You can check out his entire experience at NextShark. Our favorite part? All the food. Seriously. All of it.
5. Look, we know McDonald's is kind of gross (and has a totally creepy new Ronald McDonald), but we've got two words for you: Batman burger. Maybe someone local will jump on the superhero-burger bandwagon and make us one in Orlando. Oblivion? Graffiti Junktion?