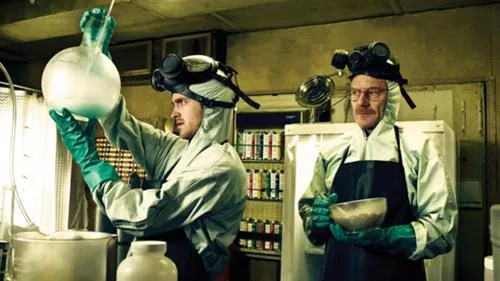 Image via Breaking Bad Wikia
Image via Breaking Bad Wikia
A group of Deltona meth-crafters were not quite are smart as Walt and Jesse when, early Saturday morning, they mistakenly dialed 911 in the middle of a conversation about drugs, which led to an eventual meth bust.
As reported by WFTV, Volusia County 911 dispatchers received a call at 12:31 a.m. Saturday, Oct. 4., but when they answered? No one was there. The operator stayed on the line to listen to the voices in the background of the call. Quickly, she realized she was listening in on a conversation about drugs and eventually recognized a bubbling sound, like something was cooking.
The line was kept open for the next 28 minutes, while the dispatcher passed information to Volusia County Sheriff's Office deputies, using cell phone locator data to direct them to a Deltona home.
When deputies arrived, they found three people in a shed located in the backyard of the home, with telltale smoke pouring out of it and meth-making supplies in clear view through the shed's window. The three people in the shed, Donna Knope, Jason Knope and Thomas Stallings, were arrested and charged with manufacture of methamphetamine and possession of methamphetamine with intent to sell or deliver. Stallings was additionally charged with a probation violation.
Listen to the audio of the 911 call, courtesy of WFTV: